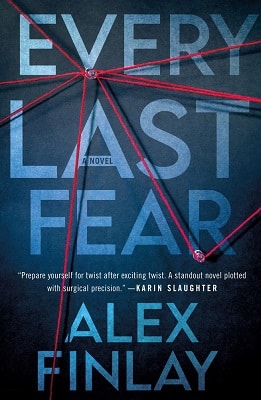 Alex Finlay is the debut author of Every Last Fear. He writes under a pseudonym, lives in Washington, D.C., and has spent years travelling the world. 
Q. Every Last Fear is getting wildly good pre-publicity reviews. What do you think readers love so much about the story?
Alex: First off, thank you. It's very exciting and humbling to make your best-of-2021 list, particularly given the number of exceptional novels coming out next year.
Based on reader reviews, I think what's resonating with ELF (an unfortunate acronym for the book) is that it's a little different from many thrillers. And its grounded in heartache, but also hope. Beyond connecting with the Pine family at the center of the story, readers seem to be drawn to FBI agent Sarah Keller, a skilled, no-nonsense agent who also is exceedingly kind and empathetic, something we all need right now. I suspect readers will be seeing more of Keller in the future…
Q. You've said elsewhere that the story of Every Last Fear was inspired by a trip you took to Tulum, Mexico. What happened there?
Alex: Nothing as dramatic as what happens to the Pines, fortunately! While on a trip staying at an eco-hotel off the beat and path (read: scary jungle) in Tulum, I read a news story about how American tourists have increasingly been dying under mysterious circumstances when traveling abroad. That night I watched a Netflix true crime drama, and wondered what became of the documentary subjects and their town in the aftermath. Then the two thoughts collided.
Q. Every Last Fear is full of wild twists and great action, perfect for TV or a movie. Are there any plans for the book to make its way to the screen?
Alex: Not to be coy or draw out the suspense, but I hope to have news I can report soon. Before my agents even started their outreach to Hollywood, we had multiple cold inquiries from producers solely through word-of-mouth about the book, so I'm hopeful to report news in the near future.
Q. You're currently writing under a pseudonym. How did you choose the name? Does Alex Finlay have any special significance to you?
Alex: I'd like to say there was some science to it, but it was just a matter of finding a name I liked the sound of and could live with for years to come. The pen name was a way to write without fear—without concern about success or failure or expectations, and just throw myself into the fate of the Pines.  
Q. What's next?
Alex: I'm gearing up to promote the release of Every Last Fear in the U.S. and abroad, and finishing up the draft of my next book so I can get it into my publisher's hands. Otherwise, I'm waiting and hoping for this country to kick COVID's ass. Until then, stay well everyone!
The USA Today Bestselling Author on AMONG THE INNOCENT and more
read more