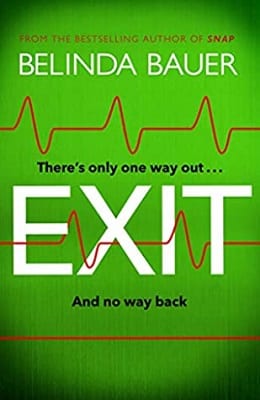 One might think the life of a seventy-five-year-old is one of peace, quiet, and solitude. However, this is not the case for Felix Pink, who has taken on the task of being an Exiteer: one who assists others wishing to commit suicide because of their incredible pain and suffering. [Trigger warning for those who have watched a family member die.]
For most of us, this would not be a job we would take on, but Felix feels after nursing his very ill wife, that being an Exiteer is his calling; easing people into their next life away from pain is what he vows to do. A noble calling. And all goes well as Felix attempts his last exiting with a new partner, until something goes incredibly wrong, and Felix finds himself on the run from the police.
How did this accident happen? He and his dog, Mabel—a great team of would-be detectives—try to puzzle out the details while trying to protect his partner. The police led by Calvin, a uniformed officer, who never wanted to work on cases involving murder, finds himself exactly where he never wanted to be.  Calvin and his crew down at the station provide some light-hearted moments with their contrary snack machine, an ever-present fruitcake, and typical comraderies. Calvin and his partner have a running total on who has the "worst day" ever, which provides some very funny moments.
There is much gone amuck here. And as the details emerge, we find that there might just be a whole lot more to the death that poor Felix finds himself embroiled in. For Felix, life just might begin at seventy-five and for Calvin, he becomes more secure in what he is becoming.
The bottom line: Belinda Bauer keeps the reader totally involved in the story, and as it continues, we find more to like about both Felix, Calvin, and of course Mabel! Definitely recommend this story for its bright and tight writing as well as a storyline that keeps one riveted to the pages of this enjoyable book due out on February 2, 2021.
He investigates in secret to untangle the mysteries behind the killer
read more