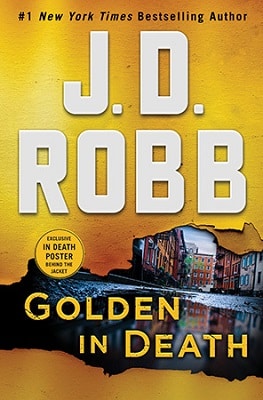 Golden In Death by J. D. Robb (pseudonym for Nora Roberts) brings murder, mystery, romance, and suspense to a well-written futuristic police procedural and romantic suspense set in New York City in April 2061. This is the fiftieth book in the In Death Eve Dallas series.
This story starts with pediatrician Dr. Kent Abner receiving a package. When he opens the inner trinket, airborne fumes kill him. Our protagonist, Lieutenant Eve Dallas of the NYC police department, leads a team of homicide detectives and is soon on the scene along with her partner, Detective Delia Peabody. Questions arise while Eve calls in the hazmat team, undergoes testing and interviews those in the house. Who would kill a well-loved doctor? Was he really that innocent? What was the toxic substance? Are those first on the scene at risk?
It's always entertaining to spend time with Eve, her billionaire husband, Roarke, their friends, and Eve's colleagues. She is definitely a compelling and three-dimensional character. Her need to serve and protect comes through in every book, but the underlying impetus for this is best understood by reading this series in order. Due to the way Eve was raised, she often doesn't understand commonly used phrases and this comes into play a few times in this book making her seem more real and less perfect. As always, the interactions between Eve and Roarke are enjoyable and bring a different facet of Eve's personality to light.
In this novel several of the reoccurring characters play very minor roles or are only mentioned in passing. However, Peabody plays a bigger role and shows both her ability to bring thoughtful and intelligent perspectives to the case as well as actually getting assertive when a witness belittles her family, her education, and her colleague. This story managed to give more emotions and life to Delia, allowing her character to grow.
While this book has some action, it is mostly a police procedural.  The case is complex and challenging with numerous suspects that have to be interviewed and researched and a motivation for murder that needs to be discovered. It is tragic in places and uplifting in others. Robb is an author that manages to embed humor in her novels, providing some much needed levity to offset some of the more serious and grim aspects of the story.
The bottom line: If you enjoy engaging near-future police procedurals with some romance, then I recommend this series. Overall, it is entertaining, and like spending time with old friends. I have the next book in the series and can't wait to read it. I recommend reading these books in order, to gain more insight into the characters and their backgrounds.
I purchased a digital copy of this novel. Opinions expressed in this review are completely my own and are not biased in any way. Publication date was February 4, 2020.
More Police Procedural Reviews
A London gangster brings terror and murder to Bath
read more