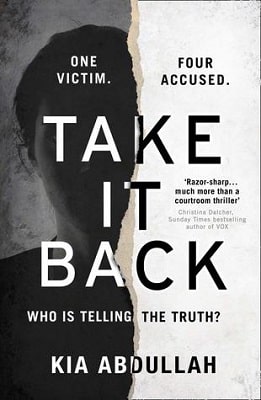 This compelling story is more than a gut-wrenching court room thriller. Rarely does a novelist attempt to tackle such a heady mix of societal issues. Explored and exposed are the illogical perceptions behind race, religion, nationality, misogyny, and rape. And readers will wonder: Who can be believed?
Jodie Wolfe is a 16-year-old white girl who has been the subject of taunting and bullying all her life. Born with a severe facial deformity that even her alcoholic mother considers ugly, she suffers from daily disdain. And now, Jodie has accused four of her classmates of luring her into an abandoned warehouse and taking turns raping her. The boys are all Muslims, and the progeny of hard-working respectable families residing in East London.
Neither Jodie's best friend, Nina, nor her mother are supportive. When it comes to the accusation, most everyone wants her to "take it back." After all, who would rape an "ugly" girl?
It takes five days before Jodie is ready to relate her ordeal with graphic details to advisor Zara Kaleel at the SARC, the sexual assault referral center. Zara's job is to act as an advocate, listen, and compile all the facts and establish the likelihood or necessity for legal action.
A Muslim herself, Zara had finished law school at the top of her class and was firmly entrenched in a prestigious law firm on Bedford Row in London, earning a six figure salary. There, she was disenchanted with not only her professional life, but also her family dynamics, and refused to act the part of a traditional Muslim woman.
Zara's family and community can't understand why she would take part in such a case. Many consider her a traitor, as evidenced in the newspaper, and by internet trolls. Should she be more loyal to Islam than a girl who was victimized?
The last half of the book is a riveting exhibition of the testimony of all five teenagers, whose testimony comes across with varying degrees of veracity and effectiveness. Who can be believed?
The Bottom Line: Kia Abdullah weaves a compelling narrative with elegant prose, in a story that culminates in multiple unexpected reveals. This riveting and thought-provoking book will resonate in your memory long after the last page is turned.
Thanks to NetGalley and St. Martin's Press for providing an Uncorrected Proof of this masterful novel in exchange for an honest review.
More Legal Thriller Reviews
He has one chance to find the facts he's searched for his entire life
read more