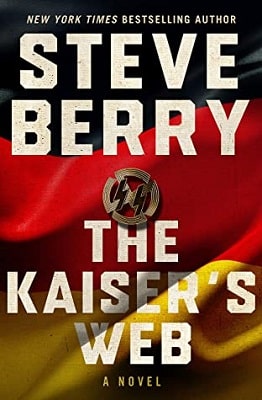 In this 16th Cotton Malone novel, we start off in Belarus, go to Poland, then spend much of the rest of the book traveling around Germany, Chile, and South Africa. It's a whirlwind of action, and, as always, Steve Berry does it as well as anyone in the historical thriller / alternative history genre.
Despite their retirement, Cotton and his girlfriend, Cassiopeia Vitt, are still on call for special requests from the former President of the United States. This time, they get involved in the upcoming German election, an event Berry uses to really give us insight into the rise of the Nationalist Right in Europe, as well as lingering devotees of the Nazi's. Due to the sudden death of a messenger, these Cotton and Vitt are now at the heart of the campaign by the current centrist Prime Minister of Germany and her right-wing challenger.
Enjoyably, Malone and Vitt split apart. One stays in Germany while the other heads to South America, both trying to investigate whether the challenging candidate has ties to Adolf Hitler and Eva Braun. Along the way, we're treated to a history and mystery lesson as to those two, plus Martin Bormann. Did they really die in the bunker? Did any escape? And if so where did they go? Did they have children? And, what about the stolen Nazi golden bounty? Berry knows how to intertwine a great fictional plot with loads of historical accuracy and once again weaves a tale that is believably true. 
The stakes are high. Failure would usher in the New Right in Germany. Time is of the essence in this chase to find the truth, as campaigning heats up and the election is only days away. The candidates are tied in the polls and whatever Malone can uncover will probably sway the election.
The Bottom Line: Filled with mystery, history and intrigue, twists and turns that keep your head spinning until the very end, The Kaiser's Web is a wonderfully informative, entertaining and fast-paced novel. This is a worthy new chapter in the Cotton Malone series!
 A big thank you to NetGalley, St. Martin's Press and Minotaur Books for providing a free advance copy of this book.
Trapped with a cold-blooded killer in a remote place
read more