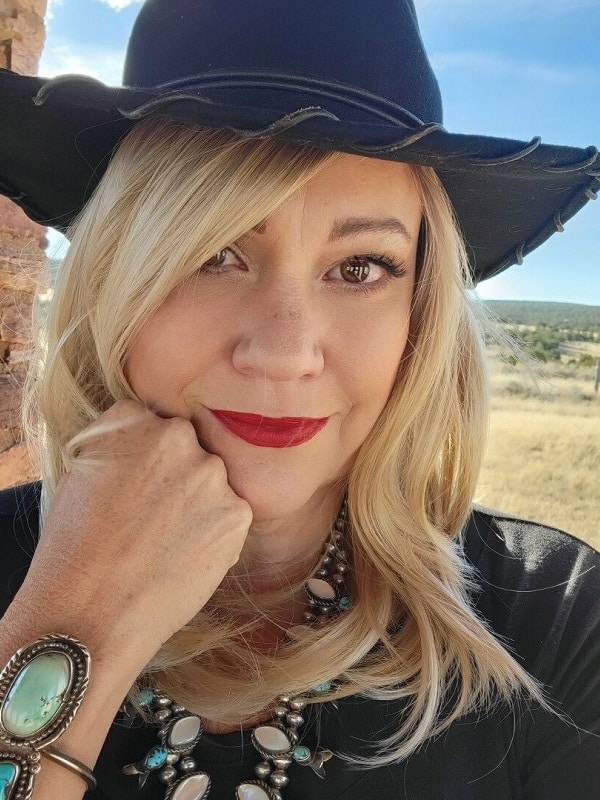 Alisa Lynn Valdés is an award-winning print and broadcast journalist and a former staff writer for both the Los Angeles Times and the Boston Globe. With more than one million books in print in eleven languages, she was included on Time's list of the twenty-five most influential Hispanics and was a Latina woman of the year as well as an Entertainment Weekly breakout literary star. She is the author of many novels, including Playing with Boys and The Husband Habit. Alisa divides her time between New Mexico and Los Angeles.
Q. Hollow Beasts is your debut in the thriller genre. What changes have you seen in the publishing landscape since The Dirty Girls Social Club was published?
Alisa: This is such a great question! I've noticed three big changes.
One, the democratization of book promotions and reviews, through social media and specifically through TikTok. The big mainstream media reviewers no longer wield the power they once did, and readers have much more power than ever before. I think this is a very, very good development.
Two, the advent of sensitivity readers and extreme caution around offending readers. This simply wasn't an issue twenty years ago. I think it's important to be sensitive, but there's a fine line between sensitivity and censorship, especially when you're trying to create realistic, complex, nuanced, flawed characters who might have some unfortunate points of view that either need to change or that humanize them in some way. Not sure writers or publishers should be knuckling under quite so much to cancel culture, though I can certainly understand why they do.
Three, reviewers and interviewers are far less interested in talking to me about ethnicity and much more interested in talking to me about writing, story, and my book. This is a dream come true.
Q. What is it about the thriller genre that spoke to you and made you decide to write in that space?
Alisa: I've always been a huge suspense fan. It's my go-to genre to read, and always has been. When I was starting out in publishing 20 years ago, the industry was fairly closed-minded to women of color writing about anything but being women of color. So, I wrote what I had to write then in order to make a living at writing. Now, I am able to write what I want to write because I love it. That's huge. And amazing. And I'm so pleased.
Q. How did Jodi Luna come to be and what research did you have to do to bring her to life?
Alisa: Jodi Luna showed up fully formed in my head and heart on a hike in the Manzano Mountains of Central New Mexico one day. It felt magical. I've had to do a lot of research about being a game warden, which has involved ride-alongs, phone interviews, and reading. I have a couple of game wardens who fill me in on things when I need them to. As a journalist, I had to do a lot of quick study learning through research and reporting, and I've been able to use those skills here.
Q. What inspired the domestic terrorist angle of Hollow Beasts?
Alisa: I was a staff writer for the Boston Globe and the Los Angeles Times. Current events inspire my books. The villains in Hollow Beasts are white supremacists because the FBI and the Department of Homeland Security say they're the most dangerous terrorists the U.S. currently faces. Additionally, hate crimes targeting Latinos are skyrocketing, thanks to xenophobic scapegoating by both political parties. In 2020, a white terrorist in Iowa hunted down a 14-year-old girl named Natalia Miranda "because she looked Mexican." Natalia's attack inspired the plot for this novel. I needed to see the terrorists lose, even if only in fiction.
Q. When coming up with The Zebulon Boys, did you research different White Pride militant groups to draw from?
Alisa: Yes. I'd rather not say which ones because they're probably just horrible enough to come after me.
Q. Justice is a big theme in your story. What does justice mean to you and what are you hoping your readers learn about it from Hollow Beasts?
Alisa: Mammals of all sorts are wired for fairness. The research of primatologist Franz de Waal is fascinating, in that it shows quite clearly that other primates are just as interested in things being fair as humans are. So, the idea of fairness, to me, is tied up in the general concept of balance that we find throughout nature, generally. For me as a writer, human, primate, mammal, and living being, balance and fairness are important and naturally make their way into my stories.
Q. What can we look forward to next for Jodi Luna?
Alisa: In BLOOD MOUNTAIN, Jodi's next book, she's going to be involved in more of a straight mystery, trying to figure out who is killing people locked into a luxurious fishing lodge during a blizzard. My own take on the locked-room mystery.
Q. Any TV/movie news you can share with us?
Alisa: I can't go into detail yet, but Jodi Luna is in the process of being optioned by a well-known actress, for a TV series. Dream come true!
Alisa Lynn Valdés's Latest
Hollow Beasts
After a long stint in academia, Jodi Luna leaves Boston for the wilds of New Mexico to start a new life as a game warden. Jodi is no stranger to the wilderness; her family has lived here for generations. Determined to protect her homeland, she nabs a poacher in her first week on the job.
But when he retaliates by stalking Jodi and her teenage daughter, a cat and mouse game leads Jodi to a white supremacist group deep in the mountains. She learns that new recruits are kidnapping women of color to prove their mettle to the organization's leader.
When the local sheriff refuses to assist, Jodi joins up with young deputy Ashley Romero. Together, they set out to take down a terrorist network that will test not just their skills as investigators but also their knowledge of the land and commitment to its people.
But will Jodi's fierce resolve to protect the voiceless put her loved ones in harm's way?