reviewed by
Sandra Hoover
Once again, Author S.A. Cosby leans heavily on his roots buried deep in southern soil to gift readers with an intense, gritty story about the life of a black man carrying out his sworn duties as the sheriff of a small southern town where racial and social injustice remains prevalent and old timey religion is a force to be reckoned with.  The atmosphere is volatile, relations unstable . . . and oh yes, a serial killer is on the loose.  
All The Sinners Bleed is an intense, potent, emotional story that's sure to hold readers attention from beginning to end.  It's the story of a former FBI agent and security expert who leaves the agency under questionable circumstances to return home to care for his aging father and reconnect with his troubled brother.  Titus Crowne's tired of the status quo so he decides to run for sheriff, and no one is more surprised than he when he's elected as the first black sheriff in Charon County, Virginia.  A deeply conflicted character, Titus is struggling with the loss of his faith in both religion and mankind, but his burning need to make a difference in the lives of the local black community is strong.  
One year after his historic election, Titus and the town people are shocked when 911 calls about an active shooter come in from the high school.  As it turns out, a white teacher was targeted and shot to death by the black son of one of Titus's friends.  In spite of his efforts to talk the troubled youth down, other deputies jump the gun opening fire and killing him as the teen exits the building.  The investigation that ensues into a possible motive for the killing opens Pandora's Box and years of ugliness and darkness comes oozing out.  Titus thought he'd seen the worse of mankind, but what he uncovers is evil and malignant with implications that the horror perpetrated on young black children continues.  There's an unidentified serial killer walking among them, and Titus will stop at nothing to unmask him before he kills again but at what cost to his own personal and professional life?
In All The Sinners Bleed, a malicious undertone of impending doom permeates the pages, driving a steady pace that escalates as the story progresses.  Cosby has a gift for assembling a cast of well-developed, flawed characters who pull readers into their world as they navigate their way through a complex, inflammable plot line laden with entangled threads threatening to erupt at every twist and turn.  Cosby brilliantly weaves the intricate threads into a beautifully written tale of racial injustice, family discord, lost faith, abuse of power and murder.  Titus's personal story, including his attempts to forge a path to reunite with and heal the rift within his own divided family and his inner battles with faith as an agnostic, resonates with readers building empathy for the man.  Readers are transported into an all-consuming setting that Cosby's obviously comfortable writing about – a small southern town founded on blood, sweat and tears with its cult like groups of people vying to be the voice of the town.  The clashing of self-claimed historical legacies is evident as is the manipulation of congregations held in the palm of holier than thou Bible Belt preachers – many with dark, ugly secrets of their own.  
All The Sinners Bleed is gritty, graphic and deeply disturbing, firmly establishing S.A. Cosby as one of the top voices in southern noir and/or crime thrillers today.  There's no doubt, this author is the real deal.  I highly recommend the audio version of this title as Narrator Adam Lazarre-White delivers an outstanding performance bringing All The Sinners Bleed to life.  Fans of noir and thrillers will devour this one!
All the Sinners Bleed is available at: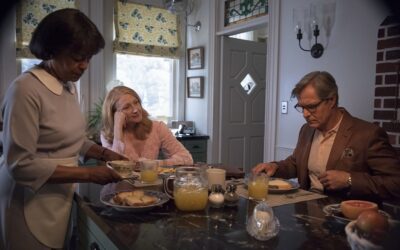 Tracing the Evolution of Southern Noir
The Enigmatic Allure of the Femme Fatale
A Look into Noir and Hard-Boiled Mysteries