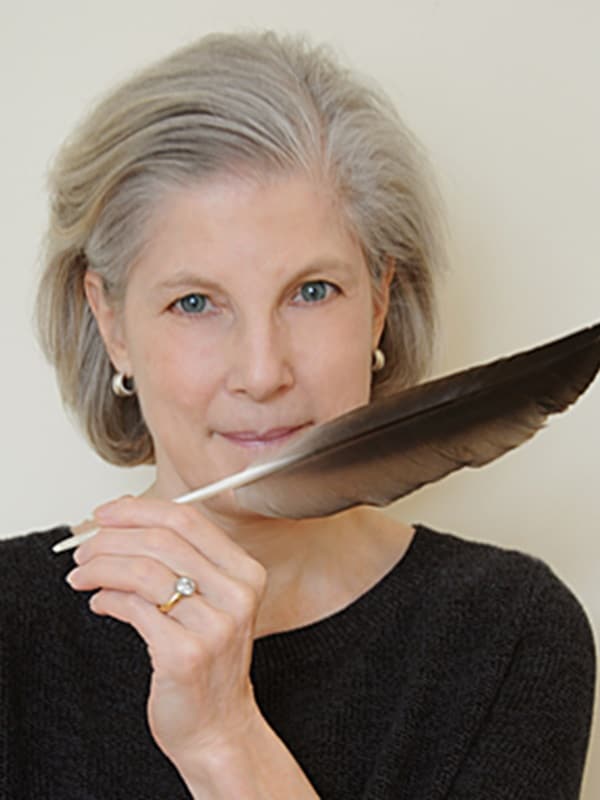 Andrea Penrose is the USA Today bestselling author of Regency-era historical fiction, including the acclaimed Wrexford & Sloane mystery series, as well as Regency romances written under the names Andrea Pickens and Cara Elliott. Published internationally in ten languages, she is a three-time RITA Award finalist and the recipient of numerous writing awards, including two Daphne Du Maurier Awards for Historical Mystery and two Gold Leaf Awards. A graduate of Yale University with a B.A. in Art and an M.F.A. in Graphic Design, Andrea fell in love with Regency England after reading Pride and Prejudice and has maintained a fascination with the era's swirling silks and radical new ideas throughout her writing career.
Interview by Elise Cooper
Q: What sparked your interest in creating this historical series?
Andrea Penrose: I've always loved the Regency era, but not just because of Jane Austen's pastoral village life or the glitter and glamor of London's aristocratic ballroom. Like our era, it's a world in throes of momentous change. Radical new ideas were clashing with the conventional thinking of the past. People were questioning the fundamentals of society, and as a result they were fomenting changes in every aspect of life— from politics, art, and music to social rules, science, and technology.
New inventions were disrupting everyday life, and I found that a fascinating parallel to our own current era. So, I thought it would be interesting to use a technological innovation as a catalyst for each mystery in the series. Change is frightening, and so it seemed a very rich and complex theme to weave into the stories, especially given its relevance to modern readers.
Q: What is your process for integrating historical advancements into your narrative?
Andrea Penrose: I'm a history nerd, so I love going down research rabbit holes! I first look with a bird's eye view at what are some of the main areas of life that technology was changing, and then I dive in for specific research. It's fun to find an object we take for granted—like a propeller—and see that it was a momentous invention, with a lot of wrong turns before they got it right.
Q: What drew you to set your stories during the Napoleonic Wars?
Andrea Penrose: All of Europe was at war for over a decade, and the international conflicts allows for an added layer of intrigue and skullduggery. The stakes are high, and that helps add tension to my plots.
Q: Could you introduce us to the character of Charlotte and her role in the series?
Andrea Penrose: She's caring and compassionate, and because of her backstory (no spoilers!) she's very aware of the inequalities in the world and uses her secret identity as London's most popular satirical artist to keep the leaders of society from abusing their power. One of the overall subplots in the series is how she and Wrexford—who are forced by circumstance to partner as unwilling allies in the first book—learn to see things from a different perspective as they work together and come to appreciate and admire each other's strengths.
Q: What makes Wrexford a compelling character, particularly in his role as a sleuth?
Andrea Penrose: As a brilliant scientist, Wrexford is ruled by logic and like Charlotte he is a very careful observer, which makes him an excellent sleuth. He's also passionate about right and wrong, and so despite their differences, they make a perfect team for solving complex mysteries.
Q: Tell us about the young characters, Raven and Hawk, and their significance in the story.
Andrea Penrose: The "Weasels" were great fun to create. They are two orphan brothers, abandoned in the slums at a very early age—alas, an all too true story in that era. They had to be very clever and resourceful to survive, and when Charlotte takes them under her wing, they prove extremely helpful in assisting her to learn the secret scandals of the rich and powerful.
Q: Can you provide insight into the antagonists of your latest book?
Andrea Penrose: In this book there are several of them, and I wanted to show a range of "evil." There are so many temptations—greed, envy, pride, to name just a few—that seduce people to do bad things, and I wanted to work with the nuances of that and make readers think about what draws people to the dark side.
Q: What can your readers expect next from your writing desk?
Andrea Penrose: The next book has already been turned in! Readers can check my website and social media for a reveal of the title and cover right after the New Year!
Murder at the Merton Library by Andrea Penrose blends inventions within a mystery.  Readers try to figure out how is a scientific invention related to a murder.
In this story, distraught librarian Neville Greeley asks his family friend Wrexford to come to Oxford. But just before Wrexford can meet with Greeley the librarian is murdered. Meanwhile, Wrexford's wife, Charlotte, is investigating a suspicious fire that has destroyed the laboratory of inventor Henry Maudslay. British naval operatives, German researchers, and Russian spies were all keenly interested in Maudslay's research and become people of interest. Penrose brings back many of her characters to help in both investigations including the Wrexfords' clever wards, former street urchins Raven and Hawk. Readers' search for clues within the story to see the relationship between the murder and the fire.