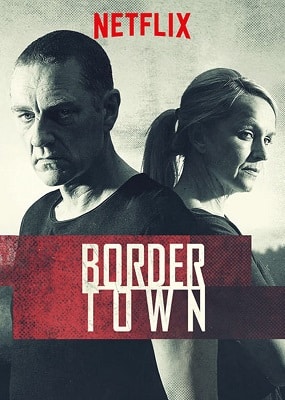 Bordertown
Rating:  TV-MA
Creator: Miikko Oikkonen
Run Date:  2016 – 2020
Bordertown is a Finnish television series of thirty-one episodes featuring Detective inspector Kari Sorjonen as portrayed by Ville Virtanen.  Kari Sorjonen has moved his family, wife Pauliina (Matleena Kuusniemi), and teenage daughter Janina (Olivia Ainali), to the Finland/Russia border town of Lappeenranta in hopes for a more relaxed lifestyle while his wife recuperates from a serious health issue. 
Kari Sorjonen hopes this transfer will allow him to spend more time with his family, but because of his special abilities, it is doubtful this will happen.  Kari Sorjonen is with a form of high functioning autism and exhibits a disability of fully understanding, interpreting, and expressing human emotions while possessing an extreme form of memory recall and collation, especially in criminal reconstructions.
Kari joins a team of investigators, some of which are skeptical of his abilities at first, and goes on to not only investigate local crimes but also crimes that include other jurisdictions and countries.
Kari and his investigative team quickly encounter a secretive investigator from Russia named Lena Jaakkola (Anu Sinisalo) who soon joins Kari and the others in the brutal investigations as the series continues forward.
Each crime depicted in Bordertown is typically dealt with in two episodes and allows a natural progression and development of the lives of each character in the program.
Ville Virtanen's portrayal of Kari Sorjonen is excellent and done with such subtle humanity this viewer became irritated when other characters seem too often to overlook his character's disabilities in their expectation of him to be "normal."  At times, watching the Kari Sorjonen character struggle with the human condition is both sometimes humorously painful but done with such a soft and deft touch, it makes the character even more likable.  The creators of the show also allow Kari's solutions to his conclusions to be revealed in logical ways without them seeming to be pulled out of thin air.
Anu Sinisalo's portrayal of Lena Jaakkola is as abrasive as nails and done in such a way one easily believes she is as rough and tough as the character she portrays.
Environmental conditions in the show depict an area that is both beautiful and harsh in its landscape in its impact upon the stories and characters within the stories.
The stories can be complex and graphic while quite compelling and entertaining, with the acting always top-notch.  Some may find following the series troublesome due to subtitles, however, Bordertown is certainly in the top-tier of criminal investigation programs and is a wonderful introduction to what has been coined "Nordic-Noir." 
All three seasons are currently being streamed on Netflix.