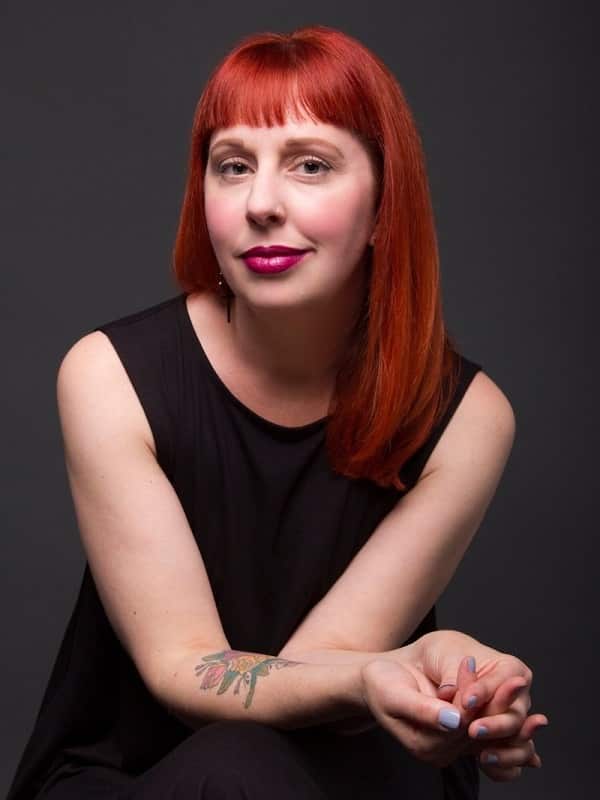 Cherie Priest is the author of two dozen books and novellas, including the horror novel The Toll, acclaimed gothic Maplecroft, and the award-winning Clockwork Century series, beginning with Boneshaker. She has been nominated for the Hugo Award and the Nebula Award, and she won the Locus Award for best horror novel. Her books have been translated into nine languages in eleven countries. She lives in Seattle, Washington, with her husband and a menagerie of exceedingly photogenic pets. Grave Reservations is her latest mystery novel.
Q. Fans are eagerly awaiting Grave Reservations, out today (October 26, 2021). For those whose hands aren't already eagerly flipping pages, what's it about?
Cherie: An inconsistently psychic travel agent rebooks a Seattle homicide detective on his way home from a convention in Florida—and at first, he's annoyed. Then the plane blows up on the tarmac, and he's grateful. He also has this one weird case he just can't crack, and he's open-minded enough to see if this travel agent wants to help him solve it. Shenanigans ensue!
Q. The feeling of Grave Reservations is much lighter in tone, more humor than your previous novels. Did it make a difference to the writing process?
Cherie: I wrote Grave Reservations after a series of very dark, very stressful projects (not all of which are public, or are likely to become public); I needed a brain break, and also? I thought maybe the world was bleak enough without me contributing more angst to the market. Don't get me wrong, I love angst—especially spooky angst. But the time had come for me to try something lighter and more obviously, aggressively fun.
Q. In Grave Reservations, Leda refines her psychic talent by performing at the Castaways bar, accepting objects from audience members, which inspire a personal song. This Klairvoyant Karaoke (aka the Psychic Psongstress) is a fantastically original idea. Was it inspired by anything in particular?
Cherie:  Aw, thank you—and the truth is a little vague and stupid. I remembered watching Transformers years ago (the first big movie) and I was thinking about the way Bumblebee "talks" in clips off the radio; it struck me as the kind of thing a ghost might do, or any otherwise silent party who wanted to convey information but lacked a vocal apparatus. I'd been thinking about having a haunted jukebox type situation in a different story, but it didn't work out—and the idea just…morphed, I guess…into a person who is "listening" to something unseen, and trying to figure out its intent by choosing music.
Honestly, I was afraid it was a little too hand-wavey and woo-woo, and I wasn't sure it would work. But I do like the way it came out, and I get a lot of commentary from folks (like you!) asking about it. I also get the occasional email about an episode of Angel that I never saw (I never watched the show, except for the first couple of episodes) … and since I still haven't seen that episode, I don't know how close the parallels are.
That said, there's a long history of bars/clubs being liminal spaces—between work and leisure, between social engagement and solitary drinking, between day and night, etc. I am by no means the first to propose it as a safe place for weirdos to gather and perform.
Q. If Leda were to perform a song for you, what would it be about? What object would you give her?
Cherie: Hm. I'd give her a pair of 14-gauge silver earrings. (There's a story to them, and how I bought them, and where/when/how I tend to wear them.) I think she'd pick "Video Games" by Lana Del Rey. Or maybe "Charlotte Sometimes" by the Cure.
Q. As we ease out of the pandemic, do you have any upcoming writers retreats or writers' pilgrimages?
Cherie: Nope. I've had my shots, I wear my masks, and I avoid most people. I'd love to return to big events, but right now there are too many selfish contrarians out and about to make that an option a comfortable one at this time.
Q. In our last interview you talked about an upcoming modern horror/gothic project that was "Bowling for Columbine meets Haunting of Hill House." How is that coming along? Any other exciting upcoming projects?
Cherie: I finished the draft, my agent shopped it around, and nothing came of it. That's how it goes sometimes. Maybe I'll revisit it later, maybe I'll trunk it, maybe I'll cannibalize it and use bits of it elsewhere, in another project.
I really liked the story and believed in it, but so it goes. Sometimes the timing isn't right, or the market isn't ready, or the book itself isn't ready and/or what it needs to be. More often, I assume it's some combination of all of the above.
Is it aggravating to blow the better part of a year working on something that no one sees? Sure. But it happens, and there's nothing you can really do but take a step back and reevaluate. Sometimes it helps to work on something else for awhile, or just take a decent amount of time away from it and return with fresh eyes. Sometimes it doesn't.
I tell myself that it happens to the best of us, and keep moving forward.
Grave Reservations
Meet Leda Foley: devoted friend, struggling travel agent, and inconsistent psychic. When Leda, sole proprietor of Foley's Flights of Fancy, impulsively re-books Seattle PD detective Grady Merritt's flight, her life changes in ways she couldn't have predicted.
After watching his original plane blow up from the safety of the airport, Grady realizes that Leda's special abilities could help him with a cold case he just can't crack.
Despite her scattershot premonitions, she agrees for a secret reason: her fiancé's murder remains unsolved. Leda's psychic abilities couldn't help the case several years before, but she's been honing her skills and drawing a crowd at her favorite bar's open-mic nights, where she performs Klairvoyant Karaoke—singing whatever song comes to mind when she holds people's personal effects. Now joined by a rag-tag group of bar patrons and pals alike, Leda and Grady set out to catch a killer—and learn how the two cases that haunt them have more in common than they ever suspected.
More Supernatural Mysteries