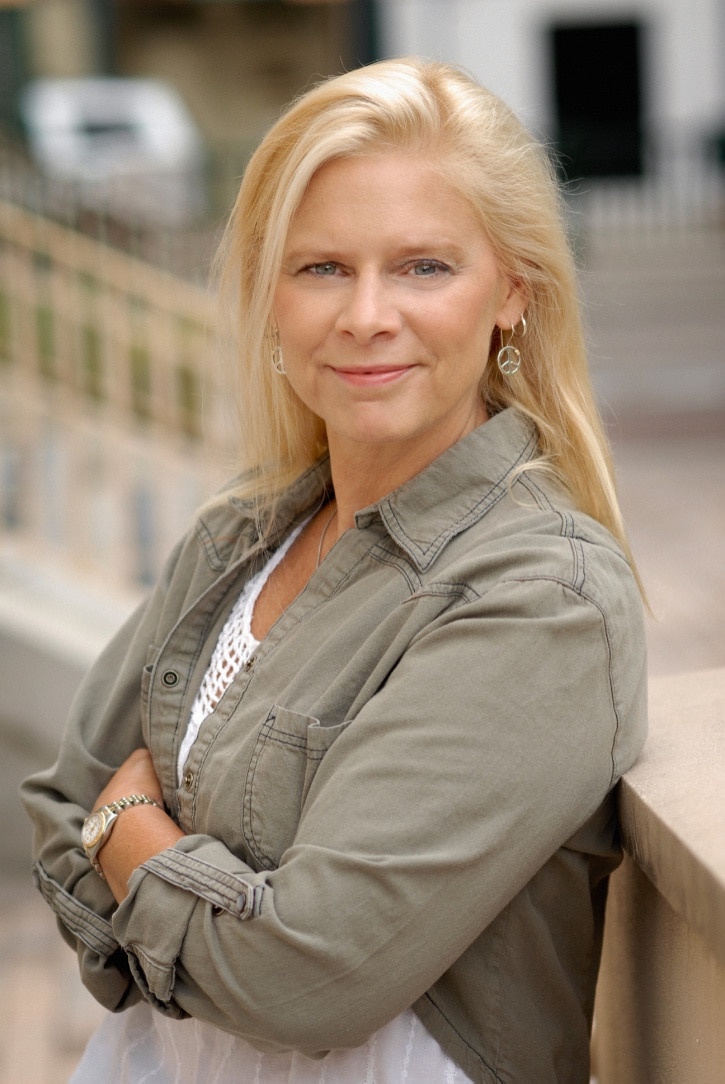 Dana Ridenour, daughter of a Kentucky law enforcement officer, knew she wanted a career with the Bureau from the age of fifteen. On the way, she attained a law degree and practiced in the field before joining the FBI. During her FBI career, she worked a variety of assignments, including seven years undercover as a vegan. She and her FBI agent husband had the unique experience of working undercover as a married couple while they were dating. She is the award-winning author of the three-book Lexie Montgomery Series based on her experiences. While the book she is currently writing is not a part of the series, she expects to continue the Lexie Montgomery series with a fourth book.
Interviews by Judith Erwin
Special Agents of the Federal Bureau of Investigation (FBI) are popular characters with authors and readers of crime-solving mysteries. However, when an author carried the badge and worked the cases, the books merit special interest. Two such fascinating authors are retired FBI Special Agents Dana Ridenour and Jerri Williams. Each spent over twenty years on the job, and in the following interviews, each shared information about their respective careers and books.
Q Can you describe what it was about an FBI career that drew you in at age fifteen and kept you focused on your goal for over ten years?
Dana: I went to Washington, DC, on a band field trip during my sophomore year of high school. We toured FBI Headquarters, and I immediately knew I wanted to be an FBI Special Agent. The tour guide made the FBI seem like such an exciting career. When I returned home, I read everything I could about the FBI. I started reading about John Douglas and his work as an FBI profiler. I was hooked and wanted to become a profiler like John Douglas. In college, I majored in police administration and psychology. In those days, the Bureau predominately hired lawyers and accountants, so I went to law school to be competitive in the hiring process. I was determined to one day become an agent, so I studied hard, avoided drugs, and stayed out of trouble in high school and college. My dream came true when I was hired and entered the FBI Academy in November 1995.
Q In the first book of your Lexie Montgomery series, Behind the Mask, like you, Lexie said she knew from age fifteen she wanted to be an FBI agent. What percentage of the character is Dana?
Dana: Lexie truly is my alter-ego. I'd like to think Lexie is a better version of me. I picture a younger version of myself when I'm writing the character. I kept a hidden journal when I worked undercover. In the journal, I documented feelings and experiences along the way. Those journals were a big part of formulating my Lexie character. The dangers I faced in my career made me the person I am today. Those experiences make up the character of Lexie Montgomery. So, even though the books are fiction, the characters and cases are based on many of my real-life experiences. At this point, separating Lexie's emotions from mine would be impossible.
Q Living undercover as a vegan for so long, did you retain any part of the vegan lifestyle, and what was the first thing you ate after the case was over?
Dana: I was a vegan for a little over seven years. Because of what I experienced living the vegan lifestyle, there are some things I retained. For example, I would never wear fur. It drives me crazy to see people wearing fur coats. I try only to use cosmetics and other products not tested on animals. I eat some meat now, but I'm perfectly happy eating vegetarian or vegan meals. Surprisingly, the thing I missed most when I was vegan wasn't meat; it was cheese. My first non-vegan meal after seven years was a cheeseburger. I didn't plan to break my vegan lifestyle, but let's just say there were some adult beverages involved.
Q In Behind the Mask, Lexie had some understanding of the animal rights cause and developed friendly feelings toward Savannah, her target activist. Was that true to the experience you had undercover?
Dana: Lexie's understanding of the cause and respect for the activists was planned and true to my experiences. Most of the activists I encountered were kind, intelligent, and thoughtful. They were misunderstood by most of society because they were different. Lexie was able to see that not all of the activists were criminals, and even the ones who were participating in criminal activities were doing so because they thought they were doing the right thing for the animals and the environment. Although Lexie initially targeted Savannah because she saw her as the weakest link, the feelings she developed for Savannah were real. While I worked undercover, I spent a great deal of time with one of my targets. She and I were so much alike. Although I never lost sight of my mission, I became very close to her. I enjoyed hanging out with her, and we became friends. The relationship between Lexie and Savannah developed in a different way than my real-life encounter. Once my target realized an FBI agent betrayed her, she hated me. She still hates me. But to be successful as an undercover agent, I had to build relationships to betray relationships. I didn't want that kind of pain for Lexie and Savannah. Plus, I had plans for the Savannah character in my second novel.
Q What percentage of your novels is factual?
Dana: That's a difficult question because so much of my real-life experiences are woven into fictional characters. Behind The Mask is the most autobiographical of the three novels. It's Lexie's first long-term, deep-cover case. Her experiences came from my journal entries while working my first long-term, deep-cover case. Beyond The Cabin is probably the most fictional as far as the storyline. However, the character of Captain Mead was based on my dear friend Captain Sandy, so much of his character is true. In Below the Radar, Lexie is assigned a male FBI partner to go overseas on an extremist investigation. The character of Blake is based on my husband, Bill. He and I did travel to the Netherlands, working as partners in an undercover capacity. Many of the things that happened in that novel really happened to us while we were overseas—especially the funny scenes.
Q Are you faithful to authenticity in your novels, or do you take artistic liberties?
Dana: I try to keep the books as close to real life as possible. I wanted to write a realistic FBI book showing the psychological toll that undercover work has on an agent. There are so many FBI books on the market, but few are written by anyone with experience working for the FBI. I had to take a few artistic liberties to keep fast-paced stories. But overall, the books are pretty authentic.
Q Was any book more difficult than another to write? If so, which and why?
Dana: The easiest book to write was Beyond the Cabin. That book flowed and required few revisions. The most difficult book to write was Below the Radar because I changed my writing routine, which turned out to be a huge mistake. My normal habit is to write, go back the next day, revise, and then move forward. With Below the Radar, I wrote straight through the manuscript without going back, reading, and revising. This turned out to be a mistake because when I finished, I had holes in the story and even lost a character a quarter of the way through. I learned a valuable lesson. If it's not broken, don't fix it. I went back to my normal writing routine with my fourth manuscript, which works for me.
Q Is there anything you hope readers will take away from the Lexie books?
Dana: I hope that readers take away a better understanding of the psychological toll of working full-time undercover cases. I also hope readers will gain a better understanding of the FBI.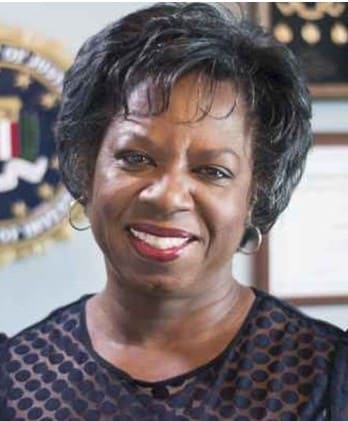 Jerri Williams, a former juvenile probation officer, joined the Bureau after learning the FBI was seeking recruits from the female and diverse populations. She worked economic fraud investigations during her twenty-six-year career, including obtaining a successful outcome with a 350-million-dollar Ponzi operation. In addition to her Kari Wheeler crime-solving series, Jerri penned the informative non-fiction book, The Myths and Misconceptions of the FBI, exposing many of the inaccuracies occurring in contemporary films, television, and literature. In addition, she has written two screenplays, served as a TV consultant, plus produces and hosts the popular podcast FBI Retired Case File Review. She is currently working on an FBI crime novel featuring a new black female FBI agent.
Q Why did you decide to use your experience for fiction as opposed to non-fiction?
Jerri: I fictionalized the actual true crime cases because I love to read and write stories with multiple points of view. Because I didn't know exactly what the subjects and the witnesses were thinking and feeling, I knew I would have to make up those parts of the story. Also, fiction provides an opportunity to use my imagination to make the story even better than it was in real life.
Q How do you decide on which case to use as the basis for a book?
Jerri: I decide which true crime cases to fictionalize based on the cases. For instance, when I learned that two attractive female agents in my office were working on a case involving corruption in the strip club industry, I knew that there was a novel in that case. Writing Greedy Givers, which is inspired by a charity Ponzi scheme case I investigated, was my way of trying to resolve the mystery of why the subject defrauded the non-profits and donors who were victims in his scheme. I always wondered why he did it. Writing that book allowed me to create a plausible scenario to explain his actions.
Q How much of your character, Kari Wheeler, is Jerri Williams?
Jerri: Many aspects of my character Kari Wheeler are like me, but my husband likes me to make sure readers know Kari is not me. I have never cheated on my husband. I need to make sure that's clear. But I have a son and twin daughters. My husband was a teacher and a basketball coach. Like many first-time authors, I used biographical parts of my life to form my main character's origin story. However, the things that she goes through and the actions she takes are all from my imagination and absolutely did not happen to me.
Q Was any book more difficult than another to write? If so, which and why?
Jerri: When writing a book, I want to keep the action, the inciting incidents, and the crisis at a level where the reader wants to continue reading to find out what happens next. As far as which book was more difficult to write, it would have to be the very first one. It took me eight years to finish. I did not know what I was doing, but I read tons of craft books and attended writing seminars to learn how to write. And of course, using editors and learning directly from them about what worked and didn't work made my books better. Good editing improves everyone's books.
Q Without doubt, you put importance on the authenticity of FBI procedures in your stories. Has there ever been a time while writing when you felt constrained by authenticity?
Jerri: I don't think I've ever felt constrained by authenticity. It's important that authors try to be accurate when creating characters who are portraying professionals. So, whether you're writing about a doctor, a lawyer, a police detective, an FBI agent, or an anthropologist, you should at least know the basic procedures and policies of those jobs.
Q Since retiring, you have been busy with various projects—your fantastic podcast series, your books, and consulting work in the film and TV industry. Which do you enjoy the most and why?
Jerri: As far as the things that I'm doing now—writing books, blogging, podcasting, and TV consulting—I love it all. That's why I'm doing it all. Sometimes, I must remind myself that I'm supposed to be retired. I feel burned out when I don't make the time to enjoy my retirement. That's when I pull back and take a break. But I love stories and always want to be involved in creating stories. TV consulting has been so much fun just to be involved at that higher level of creation. I've assisted writers, costume designers, set designers, and the prop guys. It's not just a TV show but a visual writing project.
Q Can you tell a little about the book you are working on?
Jerri: My current work in progress is another FBI crime novel involving fraud and corruption. I loved Kari Wheeler, a flawed and damaged character. However, I believe the two-book storyline completes her journey. So, I've moved on to a new character who is also a black female FBI agent.
Q Is there anything you hope readers will take away from the Kari Wheeler books?
Jerri: I loved Kari Wheeler. I really wanted to show a multilevel character, someone very different from the usual female FBI agent in books, TV shows, and movies. And I think I was very successful in doing that. I wrote the book several years before the #MeToo movement, but it represented the time when women were afraid to speak up about abuse. We do not know the baggage others carry around with them as they go about their duties. We don't know all the things in their past that make them who they are and make them do the things that they do. Kari's story speaks for those brave souls who are judged every day. Joseph Wambaugh, who is called the father of the police procedural, once said that a good crime novel is not about how police work on cases but how cases work on police. That's what I was trying to accomplish with my Kari Wheeler books. I had to create something in her past that would make an assignment investigating corruption in the strip club industry a major issue for her. I believe I was quite successful in pulling that off.