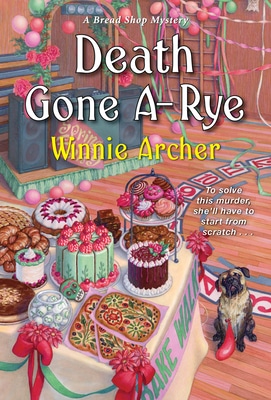 reviewed by Cara DiCostanzo
What does an investigator do when the school board president is murdered and she has more enemies than amateur Sleuth Ivy Culpepper can count on two hands?
Death Gone A-Rye is the 6th book in the Bread Shop Mystery series by Winnie Archer. It's unnecessary to read the first five, but it could give the reader more background on the series.
Ivy, a bread baker and amateur photographer, first learns of Nessa Renchrik's death at her brother Billy's wedding to her best friend Emmaline. While her chief occupation is assistant bread baker, she is also an amateur sleuth and can't wait to investigate. When Emmaline, the police chief in Santa Sofia, goes on her honeymoon, Ivy is left to solve the mystery.
Nessa Renchrik is the school board president in the small town of Santa Sofia, on the North coast of California. She is murdered in a conference room on a Saturday morning, when she has no reason to be there. And when Ivy investigates, she soon finds out that everyone is a suspect, as Nessa was not well liked. In fact, no one who knew her liked her. The suspects range from her hairdresser, to her associates on the board, to her husband. No one seems to mourn the loss. When Ivy's boyfriend, Miguel Bautista, is named the top suspect because of an affair he had with the victim a decade ago, she must move quickly to solve the death and exonerate him.
Winnie Archer has done an outstanding job of moving Death Gone A-Rye along at a great pace. I loved her descriptions of Santa Sofia. She also provided numerous successful red herrings, making the reader think one character is the top suspect until Ivy meets another person who hated Nessa much more than the last. Additionally, there is a wonderful comic element as Ivy moves forward, trying to find someone who mourns her death. If you love cozy mysteries and delicious descriptions of baked bread, this is the book for you.