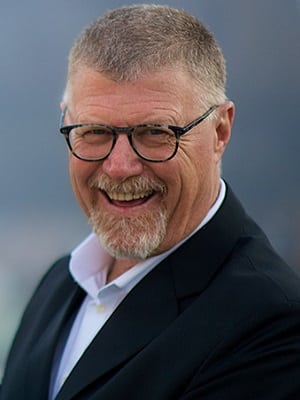 Deon Meyer is a crime thriller writer whose novels have been translated into several languages, including English, French, German, Dutch, Italian, Spanish, Danish, Norwegian, Swedish, Russian, Finnish, Czech, Romanian, Slovakian and Bulgarian. He lives in Melkbosstrand on the South African West Coast with his wife, Anita. They have four children to keep them busy.
Q. You began writing stand-alone novels, and then began the Benny Griessel series. Was that a planned series or did you find something in Benny that made you want to write a series of books focusing on him?
Deon: It was never my intention to write a series based on one character. As a matter of fact, in the early part of my career, I was adamant that it wouldn't happen. I wanted the freedom (and pleasure) of creating new characters for every book. I firmly believed that the story should always be paramount, and should determine the characters.
And then Benny Griessel happened. By accident. He was a minor character in an early novel (Dead Before Dying), created for a single, important scene in which I needed a drunk, alcoholic cop. He was supposed to come and go in a few pages. I created him on the fly, named him after the son of one of my favourite teachers at high school, and thought that was it.
Problem was, he made things happen on the page. I liked writing him. He did not want to go away. And by the end of that book, I know I had to bring him back again. Two novels later, Benny got his own book.
After that, he just kept coming back.
Q. There is a new Benny Griessel book coming out in 2021. What does the future look like for him after that book?
Deon: I'll keep writing about Benny (and his friend and colleague Vaughn Cupido) for as long as I can keep them interesting, and come up with stories that work for them. However, should I fall in love with a standalone project, I'd be happy to write that too.
Q. Have you ever considered writing a new series based on a new lead character?
Deon: I have. Characters like Lemmer (from Blood Safari and Trackers) and Thobela (Heart of the Hunter and The Last Hunt) keep haunting me (and readers keep asking for more books featuring them). I'd love to continue their stories. And, if I find a fascinating new character somewhere in future, I'd certainly consider it.
Q. Who, if any, were your South African writing influences? 
Deon: I think one is influenced by every author you read, and I've read hundreds of South African authors over the years, including J.M. Coetzee, Wilbur Smith, Andre Brink, Zakes Mda, Bryce Courtenay, Herman Charles Bosman, James McClure and Rian Malan, to name just a few. They've all left their mark, in one way or another.
Q. South Africa culture plays a big part in your books. Do you see yourself as a cultural ambassador for your country?
Deon: I do! My wonderful country is often in the news for all the wrong reasons, and I find myself perpetually trying to set the record straight. We have incredible people,  such a vast multitude of fascinating cultures, exceptional landscapes and breathtaking wildlife, and warm hospitality to go with it all. 
Q. What are you working on now?
Deon: We are adapting three of my novels for TV and film at the moment, which keeps me pretty busy, but I've started research on a new Benny book too.
The Last Hunt
When a cold case dossier lands on Captain Benny Griessel's desk, he and his partner Vaughn Cupido, fellow member of the Hawks elite police unit in South Africa, reluctantly set to work reviewing the evidence of the disappearance–and possible murder–of ex-cop Johnson Johnson on the world's most luxurious train line. Two fellow travelers might have the answers Griessel and Cupido need–but they too seem to have disappeared into thin air, and the few clues that exist suggest a cover-up. Meanwhile, Daniel Darret has settled into a new, quiet life in Bordeaux, far from his native South Africa and his revolutionary past. But when a man from that past reappears to commission his unique skills one more time, Daniel is forced to decide whether to remain anonymous or to strike a forceful blow against a corrupt government.
The two storylines eventually crash together in an ending as dramatic as it is unexpected, leaving Griessel and Cupido uncertain of their own future. With its rapid-fire plotting and beloved characters, The Last Hunt shows one of today's great crime writers operating at the peak of his powers and makes a brave and powerful statement about the pervasive corruption that has stolen so much from Meyer's native country.