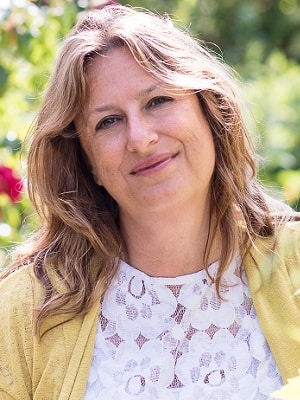 Elly Griffiths' Ruth Galloway novels take for their inspiration Elly's husband, who gave up a city job to train as an archaeologist, and her aunt who lives on the Norfolk coast and who filled her niece's head with the myths and legends of that area. Elly has two children and lives near Brighton.
Q. The Postscript Murders takes us again on an adventure with DS Kaur. What inspired this one?  
Elly: This book was inspired by my Aunt Marge, who lives in a seaside flat. Like Peggy Smith, Marge likes to know what's going on outside her window and she's also pretty good at murder plots. I started to think: what if there was a respectable older lady who was also a murder consultant? Once I had the plot, I needed a detective and I knew that Harbinder really wanted to be in another book…
Q. Delightfully, your pen name sounds like your real name and your real name sounds like a fabrication. What's the story there?
Elly: My real name is Domenica de Rosa and, you're right, it does sound exactly like a pseudonym. I actually published four books as Domenica but, when I wrote The Crossing Places, my agent said, 'This is crime, you need a crime name.' I chose Elly Griffiths because it was my grandmother's name, but I thought I would only use the name for that one book. There are now twenty-two Elly Griffiths titles. I'd still like to write another, non-crime book under my own name though.
Q. What do you love to read?
Elly: I read all sorts of books. I love Victorian writers, especially Wilkie Collins, and historical fiction like CJ Sansom's Shardlake books. There's lots of great crime fiction around at the moment and favourite writers include Val McDermid, Lesley Thomson, William Shaw, Will Dean and Ruth Ware. I particularly like discovering a new author and recently enjoyed a debut novel, The Appeal by Janice Hallett, which was a very different take on the traditional whodunnit.
Q. You've said elsewhere that you've got a fairly unusual writing routine. Do you still occasionally swim in the English Channel?
Elly: I don't know if it's unusual. I have a writing shed in my garden and try to write every day, accompanied by my cat Gus. I swim in the sea all year round. This year I even swam on Christmas Day (wearing a wetsuit and Santa hat).
Q. What are you working on now?
Elly: The Night Hawks (Ruth 13) has just come out in the UK. I've just finished writing The Midnight Hour (book 6 in the Magic Men series) so now it's on to Ruth 14.
The Postscript Murders 

The death of a ninety-year-old woman with a heart condition should not be suspicious. Detective Sergeant Harbinder Kaur certainly sees nothing out of the ordinary when Peggy's caretaker, Natalka, begins to recount Peggy Smith's passing.
But Natalka had a reason to be at the police station: while clearing out Peggy's flat, she noticed an unusual number of crime novels, all dedicated to Peggy. And each psychological thriller included a mysterious postscript: PS: for PS. When a gunman breaks into the flat to steal a book and its author is found dead shortly thereafter—Detective Kaur begins to think that perhaps there is no such thing as an unsuspicious death after all.
And then things escalate: from an Aberdeen literary festival to the streets of Edinburgh, writers are being targeted. DS Kaur embarks on a road trip across Europe and reckons with how exactly authors can think up such realistic crimes . . .