Finlay Donovan Jumps the Gun
reviewed by Sandra Hoover
Two of my favorite amateur sleuths return in Finlay Donovan Jumps the Gun, book three in the award winning Finlay Donovan series.  Readers can expect more zany antics and humorous dialogue interspersed within a really good mystery.  I enjoyed every minute of it!
Unfortunately for sleuth hounds Finlay and Vero, Russian Mob Boss Feliks is privy to their dark, still barely buried secrets and is holding the information over their head to blackmail them into helping him identify Mr. EasyClean, a contract killer who may or may not be a dirty cop.  Feliks is tightening the corkscrews via thinly disguised threats – help him or risk exposure of their illegal escapades . . . or worse.  In a desperate counter move, Finlay and Donovan join a week long Citizen's Police Academy to hide out while getting the inside scoop on what's going down among the cops.  With any luck, they'll glean a vital piece of information that leads them to EasyClean's real identity thereby saving their own necks.  And wouldn't you know it – the academy is run by none other than the one sensuous cop Finlay has been avoiding . . . Nick.  Their budding relationship is convoluted, mostly by Finlay's continued ventures on the wrong side of the law.  Too bad because several women are lining up in hopes Nick will snap his handcuffs on them.  As much as Finlay would love to be first in line, she has to face reality.  There's no way she can risk Nick getting close enough to learn the truth, the whole truth, and nothing but the truth of her illegal activities.  She'll continue holding him at bay while she and Vero attempt to survive cop boot camp and weed out the bad cop.  I mean seriously – piece of cake, right? 
The Finlay Donovan series is first and foremost pure reading entertainment.  It's sassy, ludicrous, sexy and believe it or not – delivered between the covers of a fantastic discover-the-bad-guy-without-getting-killed mystery.  The antics perpetrated by the two main characters are hysterical, nonsensical and most certainly ill-advised, and yet I can't seem to get enough.  Cosimano excels at delivering witty banter and dialogue rich with innuendos which add to the overall comic ambiance reminiscent of Lucy and Ethel of I Love Lucy fame.  Books like this generally either come off as cheesy or they kill it, and I'm happy to say Finlay Donovan Jumps the Gun slays it!  All the gang is back including Finlay's on again/off again love interests – Steven, her deluded ex who's decided he made a mistake in letting her go, Julian, the delicious young lawyer who also appears to want a second chance, and then there's Nick, the sinfully sexy, dependable, unshakable cop who's interested in the long haul if she'll just trust him enough to come clean.  Of course, it's complicated because the harder Finlay and Vero work to get out of trouble, the more it finds them and they end up digging their hole deeper.  How much bad luck can two girls have?
Finlay Donovan Jumps the Gun is another great addition to this marvelous series.  The pace is insane, the characters larger than life and the plot line more twisted than it appears.  It takes a master to manipulate the large cast through this tapestry of interwoven plot lines, and Cosimano does so with style.  While it would be helpful to read the first two books in the series prior to this one, each book stands alone to a point.  There's a cliffhanger ending, but only in the sense of setting up the next book while most plot points within this book are resolved satisfactorily.  If you're a fan of crazy off-the-wall antics and hysterical comedy, sexy tension laden chemistry and an outstanding who's-the-bad-guy mystery, Finlay Donovan Jumps the Gun is for you!  Highly recommended to anyone who enjoys highly entertaining mysteries.
Finlay Donovan Jumps the Gun available at:
The Most Unlikely Amateur Sleuths in Mystery Fiction
The Enigmatic Allure of Amateur Sleuth Villains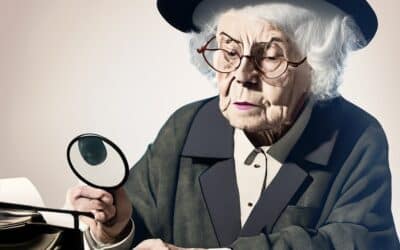 Exploring the World of the Unassuming Amateur Detective