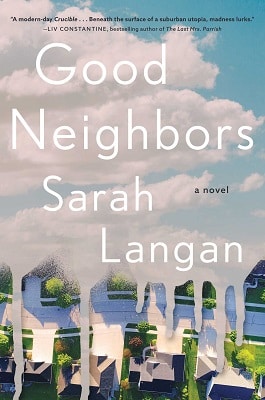 reviewed by Cara DiCostanzo
Good Neighbors is a domestic thriller set in 2037, depicting what could happen when false accusations are made and mobs form. It is very apt for this time, and can become very intense, with some downright shocking scenes. No one could foresee the finale.
Welcome to Maple Street. A tiny circular drive in Garden City, Long Island.
Arlo and Gertie have moved into the perfect house in the perfect neighborhood. Not too far from their small apartment in Queens, but worlds away. An enclave where everyone knows each other. The children, known in the book as the Rat Pack, all get along and spend most of their time together. All is peaceful in the little neighborhood surrounding Sterling Park.
The Wildes are a unique family. Arlo, a former rock star, and Gertie, who speaks with an accent, are loud and vivacious with their tattoos, flashy jewelry, and simple way of living. Rhea Schroeder is the ringleader of the street's inhabitants. While they are accepted by their neighbors, they are not sought out. Their children are Julia and Larry. Julia, a smart and sassy 12yo, is a protector of her younger brother Larry, who has Aspergers.
Rhea Schroeder is the kingpin of Maple Street. Deemed the perfect mother, her four kids are all successful, well-mannered, and on their way to great things. Rhea and Gertie become best friends, despite their differences. One hot Summer night, Rhea gets very personal with her new friend and does not get the reaction she is hoping for. What spirals from there is downright terrifying. During a July 4th Barbecue, a sinkhole opens up in the park on Maple Street, setting forth a spiral of events that both terrify and awe the Reader. When Rhea's 13-year-old daughter Shelley falls into the sinkhole, she organizes a campaign against the Wilde family, which changes all the lives of the families living on Maple Street.
This is a book about mental illness, abuse, destruction, and what happens when lying goes too far. There is a bit of fantasy and imagination required for some scenes, but the rest is very real and powerful for these times.
Sarah Langan does an amazing job describing how the very distant future may look. In describing the bitumen that oozes from the sinkhole, one can't help but think it is moving at the pace of the story, too fast for anyone to stop it.