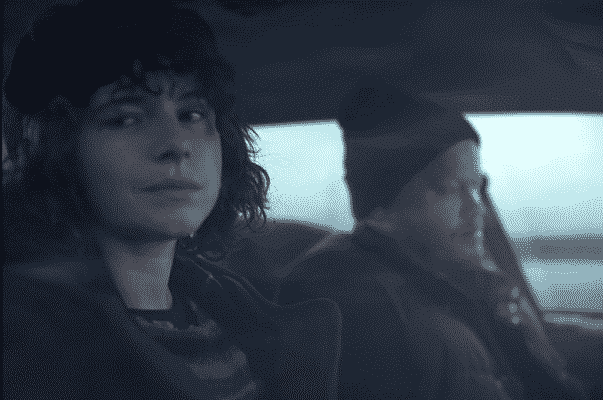 I'm Thinking of Ending Things Is Starting Things
Why Netflix needs to make more thriller novels into arthouse-caliber films
In the first five minutes of the latest Charlie Kaufman film, I'm Thinking of Ending Things, a melancholic narrator sprints, in slow prose, through her existential apprehensions: how thought is more real than action, how it's pointless to continue down a path with an undeniable end, how Newton's first law of motion applies to relationships, too.
The narrator is on her way to visit her boyfriend's parents for the first time, and she knows already that she will end the relationship. The film shifts quickly between inner perspective and outer projection, solitude and companionship, individuality and acceptance. The weather grows treacherous, and the boyfriend's parents are not right. Nothing is right. As the story grows more complex—and weirder—it touches on poetry, virology, animal husbandry, quantum physics . . .
It's refreshing to see Netflix build out the more artistic side of its original programming, which at the other end of the spectrum boasts less-cerebral guilty pleasures like Tiger King. Come awards season, the movie could be this year's Marriage Story, especially considering its unbelievably capable cast. Jessie Buckley, an Irish actress who played the doomed widow of a first responder in Chernobyl and, more recently, an unstable nurse in Fargo, delivers an Oscar-worthy performance in a role that's credited simply as "Young Woman." As a depressive intellectual dreamgirl, she talks about imbuing a sense of interiority in her plein air paintings or slips into a Transatlantic affectation to critique the film A Woman Under the Influence. Toni Collette is predictably astounding as the emotionally disturbed, tinnitus-afflicted, nervously giggling mother of Jake, the boyfriend. Jake himself is played by Jesse Plemons of The Irishman and Friday Night Lights. Icing the cake is David Thewlis, another Fargo actor who is perhaps best known as Remus Lupin in the Harry Potter franchise. Together, they create an on-screen chemical reaction that is both caustic and hypnotic.
And it's exactly the kind of thing Netflix needs to keep doing. When it comes to adapting thriller novels, Netflix has previously found commercial success in You, originally a book by Caroline Kepnes, as well as critical praise for Stephen King's Gerald's Game. I'm Thinking of Ending Things is the debut novel of author Iain Reid, a breakout psychological thriller that was adapted for the screen by writer and director Charlie Kaufman, known for Eternal Sunshine of the Spotless Mind and Being John Malkovich. The novel is introspective and moody, and Kaufman runs with it in the way only he can, adding embellishments from pop culture, philosophy, and the deep end of academia. At the climax of the film, the lead actors step aside, their roles taken over by a pair of ballet dancers. The movie ends with a musical number from Oklahoma!. And it's perfect. While most psychological thrillers rely too heavily on a third-act twist, I'm Thinking of Ending Things trusts in its storytelling and acting talent to carry meaning. The book is a literary thriller; the movie is chilling cinematic art. It asks the audience to think. About what it means to achieve success, to be accepted. And that's exactly what we do, after things have finally ended.
The Evolution of the Cozy Mystery Genre
read more