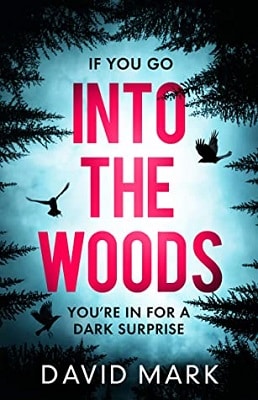 reviewed by Cara DiCostanzo
Into the Woods is a slow burn, worth every second to the shocking end.
Rowan Blake is a down-on-his-luck journalist. His first true crime novel was well received but commercially a failure. He is now licking his wounds in a barn in Bilberry Byre, owned by his sister. His hands have been ruined by an attack and he spends his days drinking and thinking about how to get back at the person who attacked him. Besides being filled with anger and jealousy over other journalists' success, he is also in debt, having spent all of his advance for the two books he promised his publisher. And he is out of ideas for his next book.
Snowdrop is the one person who still believes in him. She is his twelve-year-old niece and the daughter of his supportive sister, Serendipity, who is a loving hippie. Snowdrop loves Rowan. She looks up to him and wants to be a journalist, just like him. Rowan agrees she can help him with his next true crime story, though he doesn't have any idea what that may be.
There is a local story he hears about that he thinks might have potential for his next book. A tale of three girls who were students at a New Age school, Silver Birch Academy, who followed a strange man into the woods. Only two of the girls came back, with no memory of what happened. Into the Woods flashes back 30 years, and is also set in the present, with Rowan investigating what actually happened in those woods. Violet Sheehan is now an adult and seems to have her own issues with confronting her past. Catherine Marlish has no interest in confronting her past, though her decision has repercussions on her current situation. As our journalist delves deeper into the story, it is becoming a tale of good and evil and ultimately murder. With Snowdrop at his side, Rowan finds more than ever before of himself and his capabilities Ultimately, he puts himself in danger to solve the mystery of the disappearance of the girls from 30 years ago.
There are many wonderful characters in this book. All are mysterious in their own way, but the characters that stood out make this book so amazing. Derek Millward, the retired police officer who has been chasing a missing man for many years. His partner in many ways, DCI Eve Cater, who is not at all who she seems. The enigmatic Mr. Sixpence, who lives in an abandoned bus on the grounds of the Silver Birch academy, who disappears without a trace.
It is raining constantly in this novel, which contributes to the darkness of the subject matter and the feeling of dread that the author wants you to feel. It is almost too much to bear. Into the Woods is a heavy book, thick with description, and darkly engaging. Be prepared for an intense ride to a shocking conclusion.
More Suspenseful Thrillers