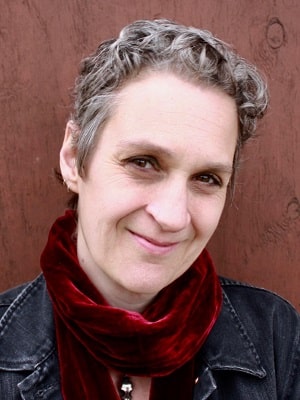 Jennifer McMahon is the author of nine novels, including The Drowning Kind, Promise Not to Tell, The Winter People, and most recently, The Invited. She lives in central Vermont with her partner and daughter, in an old Victorian that some neighbors call The Addams Family house.
Q I've read that you have an idea box, which is an actual decorated box. What can you tell us about it?
Jennifer: I'm a big believer in saving all ideas. I never throw anything away. I have a Word file full of story ideas and a folder in Evernote, but yes, I actually have a decorated box that I put ideas in. I stick in story ideas, names I love, little sparks of inspiration. It's full of scraps of paper and index cards. The notes can be as simple as: "The name Uldeen" or "Dog FLU!" or as complex as a short outline. For a long time, the idea for The Drowning Kind was just a note card in this box that said something like: "A story about the spring fed pool I visited with Grandma – the owner said it was bottomless! Black water, freezing cold and terrifying! What might have been down there?"
I have this belief that ideas act like magnets and will pull other ideas to them. When I'm stuck on a story or trying to figure out what new project to work on next, I pull out my box and go through it. It's like a magic writing cauldron and always offers new inspiration. The thing I love most about it is the connections that happen: I'll keep stuffing it full of ideas, then when I open it, I see patterns and find things that go together and new story ideas are born.
Q Famously, you do a lot of research for your books. What different media and records do you look at?
Jennifer: I do enjoy doing research, but I try not to let myself get bogged down by it at the beginning of a project. When that happens, I tend to put more energy into research and less into the story itself! I research as I go and often the research provides inspiration and helps shape the story. If I'm writing about a particular time period, I'll read up on current events, look at old newspapers, read diaries and letters written in that period. If I'm writing about a place, I'll try to go there (or to someplace similar). My research for past books has taken me to bogs, old mills, and on many hikes in the woods. For The Drowning Kind, I relied on my own memories of a very creepy pool I visited as a child. I also did a lot of reading about early resorts and spas in Vermont and New England, and life in Vermont in the early 1930s.
Q The Drowning Kind is coming out this month to glowing reviews, including ours. What do you think sets this one apart from your already stellar backlist of hits?
Jennifer: Readers who know my work will find the back-and-forth storylines I often use (one set in the present and one that begins in 1929), and the Vermont setting familiar. I've worked hard to turn up the thrills and chills in The Drowning Kind – some early readers are saying they may never get in dark water again – high praise! And yes, the book has some creepy moments (and a very scary swimming pool!), but ultimately, it's about family and how far we'll go for the ones we love most.
Q Your books often weave past and present together in interesting ways. How do you think playing with time amplifies the effects of a story?
Jennifer: I love the layered effect of weaving two or more timelines together. I'm particularly interested in the way the past influences the present – the way the choices characters make reverberate years, even decades later.
I see setting as a character of its own and I love looking at the way a place changes over time. For instance, in The Drowning Kind, I show a small Vermont town in the present, then take readers back to the same place in 1929. Though much has changed, some things are the same: the town green, the Methodist church, the general store, the landscape itself, and the springs which are long rumored to heal the sick and grant wishes. I think working in the history of the place through an earlier storyline helps make it feel more alive, and, in the case of my springs, helps create more of a sense of mystery and foreboding.
Q What are you working on now?
Jennifer: I'm working on a book about a brother and sister growing up with their psychiatrist grandmother on the grounds of small private hospital in Vermont in the 1970s. They have a monster hunting club, have watched every classic horror movie and are writing their own Book of Monsters. One day, their grandmother brings a young girl home. She doesn't speak, is covered in scars, and doesn't remember anything about her past. The kids vow to help find how who she is and where she came from. There are allusions to Frankenstein, and lots of exploration of how "monsters" are created.
Jennifer McMahon's Latest
The Drowning Kind
When social worker Jax receives nine missed calls from her older sister, Lexie, she assumes that it's just another one of her sister's episodes. Manic and increasingly out of touch with reality, Lexie has pushed Jax away for over a year. But the next day, Lexie is dead: drowned in the pool at their grandmother's estate. When Jax arrives at the house to go through her sister's things, she learns that Lexie was researching the history of their family and the property. And as she dives deeper into the research herself, she discovers that the land holds a far darker past than she could have ever imagined.
In 1929, thirty-seven-year-old newlywed Ethel Monroe hopes desperately for a baby. In an effort to distract her, her husband whisks her away on a trip to Vermont, where a natural spring is showcased by the newest and most modern hotel in the Northeast. Once there, Ethel learns that the water is rumored to grant wishes, never suspecting that the spring takes in equal measure to what it gives.