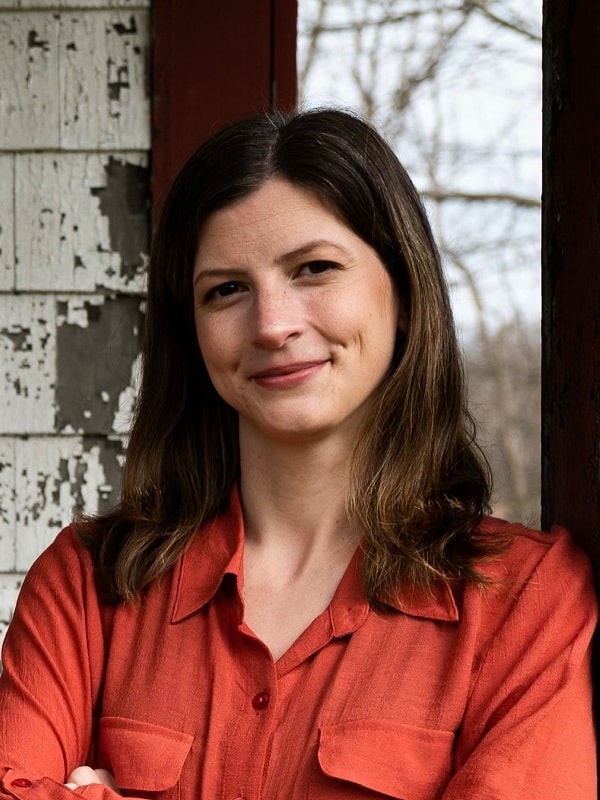 Kara Thomas is the author of The Darkest Corners, Little Monsters, The Cheerleaders, and That Weekend, Barnes and Noble's YA Book Club Pick for July 2021. Kara's books have been sold in multiple languages and have been nominated for the International Thriller Writers Award. In 2013, she wrote and developed the pilot The Revengers with Rashida Jones and Will McCormack for The CW. She lives on Long Island with her husband, son, and rescue cat, where she spends way too much time on Reddit Unresolved Mysteries trying to solve cold cases.
Q. Out of the Ashes is your first thriller for adults after writing for YA readers. What was new and challenging for you about writing in the same genre for a different aged audience? 
Kara: Every book has its own unique challenges with drafting and revising, but I wouldn't say Out of the Ashes was more difficult because I was writing for a new audience. If anything, writing from the perspective of an adult came much more naturally to me, since I was the same age as my main character for the first time. In terms of writing for an older audience, I really enjoyed the freedom of not having to worry about what is "acceptable" for readers of a certain age – I never shied away from difficult topics in my YA novels, but there are certain thresholds you can't cross if you want your book to be included in a YA library collection, for example. 
Q. What was important or meaningful to you about your novel's setting—a small town in New York, a place where none of its inhabitants seem to leave?
Kara: Carney is loosely based on the small rural town my parents live in – the same one I visited every year growing up. It was important for me to recapture the feel of a small town where so many local families are intertwined. My favorite mysteries are the ones with that small town claustrophobic feel, where even the tightest knit communities could be harboring some very dark secrets. 
Q. You're a self-proclaimed true-crime junkie, and you've said you got the idea for Out of the Ashes when you read about the Sodder family fire and the mysterious disappearance of some of the children in 1945. What drew you to that particular story, and what other favorite true-crime cases have fascinated you?  How did the true story factor into your novel?   
Kara: In addition to the Sodder Family tragedy, I was also drawn to two other cases where people were reported missing after house fires – the disappearance of Lauria Bible and Ashley Freeman, and the disappearance of Joey Lynn Offut. I am always careful when I draw inspiration from real-life cases not to use details or to base characters off real people. Real-life tragedies are not entertainment; I am more interested in digging into the emotional aspects of that type of loss. How do you grieve a person who is missing, as opposed to someone who has died? 
Q. Can you tell us about your television writing? What's different from writing for the screen versus writing for the page?  
Kara: I wrote a pilot for the CW network back in 2013 called The Revengers. It was actually a comedy, which will surprise anyone who has read any of my books! I really valued that experience, even though the pilot ultimately didn't get filmed. Screenwriting is an entirely different skill set from novel writing, and the development process was wildly different as well. Before I even wrote the first draft, the network and studio had weighed in on the story and characters through multiple rounds of workshopping. Even though I was the writer, there had been so many voices involved throughout the process that I didn't feel total ownership over the finished product the way I do with my books.
Q. What are you reading these days? Are you able to read thrillers when you are writing them?  
Kara: I love reading mysteries and thrillers! On the YA side, I'm currently reading The Legacies by Jessica Goodman, out at the end of July. I also just finished I Have Some Questions for You by Rebecca Makkai, and it will easily be one of my favorite mysteries of the year. I also facilitate the true crime book club at the library where I work, so I read a lot of non-fiction – a recent favorite is Golden Boy by John Glatt.
Q. Can you share what you are working on now? 
Kara: I am simultaneously revising my next adult book and my next YA. I have to remain tight-lipped about the YA for now, but the adult book is more of a thriller than Out of the Ashes was. It's about a former journalist who is drawn back into the case that destroyed her career and personal life. It's my first book that is set entirely on Long Island, and it follows the disappearance of a girl from Dune Road in the Hamptons. 
Out of the Ashes 
When she was thirteen years old, Samantha Newsom's family was murdered and their Catskills farmhouse set ablaze in an unsolved crime that left nothing behind but ashes.
Twenty-two years later, Sam is pulled back to her hometown of Carney, New York, under the shadows of the grim tragedy she's never forgotten or forgiven. Authorities mishandled the evidence, false rumors were seeded about her family, suspects yielded nothing, and the case went cold. Not anymore. Investigator Travis Meacham has been assigned to the case, and he has news for Sam: a prison inmate has come forward with a shocking admission. Sam's baby sister, presumed dead in the fire, made it out of the house that night.
It's not the only reveal that upends everything Sam thinks she knows about the crime and her family. But Carney protects its secrets. And this time, Sam might not be able to escape the town alive.