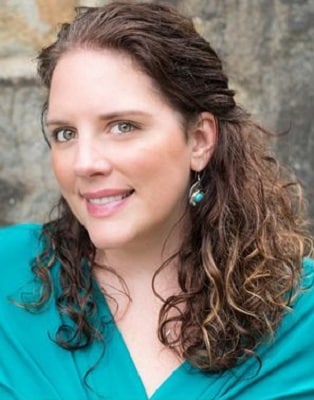 Q. Girls of Brackenhill came out in September to rave reviews, especially around the atmosphere you create. What goes into making a psychological suspense so eerie, dark, and chilling?
Kate: For me the atmosphere is always the most fun part to write. I love the small details that may or may not be real – the doors that open and close, the unexplained phenomenon like a swimming pool filled with blood. Are they in Hannah's imagination? This is what brings scenes and settings to life for me as a reader and a writer. For Girls of Brackenhill, specifically, the setting is based on a real place – Dundas Castle in Roscoe, NY – that I've been to as a teenager. The atmosphere in the book is taken directly from the feelings I had as a fifteen year old girl exploring the grounds of this abandoned castle. The hair that stood up on my arms, the sound of whispering. Nestled in the woods, the castle was sort of begging to be written about.
Q. You worked as a scientist in the pharmaceutical industry before adding a second career as a writer. What do you pull from that other role into your writing?
Kate: So it's interesting because the skills of creative writing and technical writing seem, on the surface to be so wildly different. But I've learned to be more precise in my fiction writing because of technical writing. To make sure each word I use is exactly correct for the sentence. I used to be more haphazard in my fiction writing – to me it was all about the creative process and I'd fix everything later. Now, because of technical writing and the need to be as careful as possible, I've gotten used to trying to maintain consistency. Did this character grow up in Tennessee or Louisiana? Previously, I said Tennessee but now I'm saying Louisiana. In another life, I'd let it go and fix it later. Forever forward, I used to say. Now I make sure these little details are nabbed (as much as I can) while drafting. It makes for a deeper dive during revisions. I'll never be an exacting kind of person – my hair is wild, my calendar is scattered, I think I even was late turning this interview in! But, technical writing has given me the structure and taught me that I can be wild within that framework and be better for it.
Q. You've said elsewhere that you often write to explore a societal phenomenon. What in society is intriguing you now? What are some examples where you've done this in past writing?
Kate: HA! I love when previous interview questions come back to haunt me. Honestly, I'm always working something through on the page and to a reader it would never be obvious. Relationships on the page about sisters that have nothing to do with my own sister relationship. Or a husband and wife that's really about a friend's marriage, not my own. Or an unhappy marriage that reflects my own (mostly happy) marriage with all the negatives exaggerated. Often, I explore something I've observed outside my own life. In Girls of Brackenhill, I love the idea that your childhood memories don't belong to you alone. They also belong to your parents, your siblings, your childhood friends. What you remember may or may not even be what really happened. Years of rewiring after traumatic events can convince even the most emotionally stable person that something did or did not happen. I can't tell you how many times I've recounted a story from my own childhood, only to have my mother say that never happened.
In my previous book, The Blackbird Season, I wrote through about the natural (and true and mysterious) phenomenon of flocks of birds that fall out of the sky. I also wrote about teachers that cross social media lines with students, the idea of a coach and all around self-proclaimed "great guy" accused of an affair with a student. There was so much there to explore.
Q. Is it true that suspense is one of your favorite genres to read? What have you read recently that you enjoyed?
 Kate: Suspense and thrillers are 100% my favorite genres to read. I've become kind of obsessed with Lucy Foley and The Guest List was recommended to me as a comp for my next novel. I read it and sometimes you stumble onto an author with a voice similar to your own and know you'll read every book they've written. I'm halfway through her previous novel The Hunting Party and enjoying that one just as much!
On my kindle waiting for me is Bloodline by Jess Lourey and I absolutely cannot wait to get to it!
Q. What are you working on now?
Kate: My next book is called The Spires about a group of twenty-somethings who rent a converted church after graduation. After a deadly night of debauchery, the group splinters apart, never speaking again, until Willa Blaine knocks on Penelope Cox's door twenty years later asking for help. What does she want? Why does she come back?
I truly love this book – it's like the movie Single, White Female meets Donna Tartt's The Secret History (Not that I'm Donna Tartt, good grief. But we all write to emulate, right?). Again, I got to play with atmosphere and the tricky business of memory, two of my favorite things. I am so excited for it to be out in the world (September 2021). Also present, themes of marriage, fidelity, family. You know, the usual.
When Hannah Maloney's aunt dies in a car accident, she returns to her family's castle in the Catskills and the epicenter of a childhood trauma: her sister's unsolved disappearance. It's been seventeen years, and though desperate to start a new life with her fiancé, Hannah is compelled to question the events of her last summer at Brackenhill.
When a human bone is found near the estate, Hannah is convinced it belongs to her long-lost sister. She launches her own investigation into that magical summer that ended in a nightmare. As strange happenings plague the castle, Hannah uncovers disturbing details about the past and startling realizations about her own repressed childhood memories.
Fueled by guilt over her sister's vanishing, Hannah becomes obsessed with discovering what happened all those years ago, but by the time Hannah realizes some mysteries are best left buried, it's too late to stop digging. Overwhelmed by what she has exposed, Hannah isn't sure her new life can survive her old ghosts.
The New York Times bestselling author on TAKE YOUR BREATH AWAY
read more