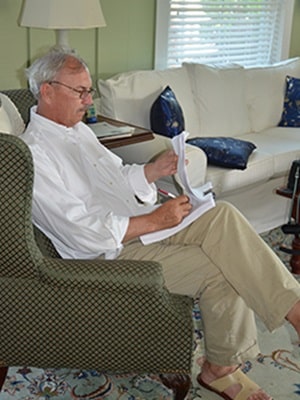 Larry Maness is the author of two books of plays and six novels (the last of which was published in 2023). 3 Plays was introduced by Pulitzer prize-winner, William Inge. His plays War Rabbit and Bailey both premiered in New York City at The American Theatre of Actors.
His first novel, Nantucket Revenge, is called "The best beach read since Jaws" according to Florida Crime Writers author Steve Glassman. His second novel, A Once Perfect Place, is included in the Literature of Social Change collection at Duke University. Strangler, his third novel featuring Private Investigator Jake Eaton, is a Detective Book Club selection. The Voice of God, his fourth novel, is called by Rosemary Herbert, author of The Oxford Companion to Crime and Mystery Writing, "an assured production that snares the reader from start to finish."
Learn more about him at larrymaness.com.
Q. In crafting the character of Theo Perdoux, how did you strike a balance between his fictional persona and the authentic procedures and challenges faced by detectives in real-life art theft cases?
Larry: I need to answer that with some background on Theo's life. He was raised Theo Zachary. He knew nothing about his biological parents. He knew he'd been adopted. When he grew up, he knew he wanted to be a police officer. Seriously injured while on duty, Theo took early retirement. Convalescing, a stranger presented Theo with startling news: His biological mother, Simone Perdoux, heir of the famous Perdoux art collection stolen by the Nazis during their Paris occupation, had recently died. Theo was the last Perdoux, which is the title of the first novel featuring his character.
Because Theo had a background in law enforcement and had inherited from his mother the family art treasures, it seemed a natural progression for Theo to sharpen his skills in the murky world of stolen art.
Q. You've written about art heists from World War II to the late 20th Century. How has your research into the methods and motivations of art thieves evolved over these different eras?
Larry: My novel, The Last Perdoux, was inspired by the Nazi pillage of thousands of art objects during World War II. The focus of that novel was set in Northern Italy is a small hilltop village near where German soldiers stored crated pieces of looted art in a cave. Once the cave was filled to capacity, the artworks would be shipped to Germany.
To learn about the looting and shipment of that plunder, I read several histories of the period. I also traveled to Northern Italy to look for myself. For my novel on the Gardner Museum robbery, I visited the museum and read news accounts about the robbery.
But it is important to remember that I was not writing history. I was using history as a starting point and personalizing elements of that history to write compelling fiction.
Q. In your novel, you take readers to Rome, a city with its own rich art history. How do you feel the location influences the narrative, and what do you hope the setting imparts to the reader?
Larry: I am a believer that setting is one of the most important elements of fiction. Readers enjoy recognizing places they have read about in novels. As such, when I write an address, I make sure it's accurate and accurately describes what's there. That means I visit the locations I use in my fiction so that I can create an authentic voice.
I selected Rome as a major location for my novel for two reasons. One is that thieves find all of Italy ripe for picking. Many private villas, museums and churches—all open to the public–are blessed with priceless artworks that exist without any form of security to protect them. Walking off with a treasure is not difficult. Secondly, powerful Roman families support their lifestyles by dealing in contraband ranging from illegal drugs to stolen Rembrandts.
Theo has reason to believe that the stolen Gardner treasures found their way to Rome, so off he went to learn the truth.
Q. Art and crime are recurring themes in your work. How do you maintain originality and keep your stories fresh when returning to these familiar wells?
Larry: Art crime runs into the billions of dollars a year. In addition to the dollar amount, the staggering number of pieces stolen by the Nazis is estimated at five million paintings, statues and other valuable art objects. Most of those objects have never been recovered. What hasn't been destroyed during the war remains in museums and private collections. Each one of those pieces has a story. That story may begin with a forged provenance, no provenance, or an unscrupulous buyer who cares nothing about where the piece came from. Given the billions of dollars and all the beautiful art that could motivate a crafty villain, Theo Perdoux will have his hands busy solving crime for a long time.
Q. The Perfect Crime: Unmasking the Isabella Stewart Gardner Heist incorporates real events with fiction. How do you decide where to adhere to historical accuracy and where to diverge for the sake of the story?
Larry: Pace and plot dictate when to leave reality and dive into fiction. For example, I created an Italian violin maker to set the plot of The Perfect Crime in motion. There was no violin maker casing the museum to help plan the actual robbery. In other instances, I create situations to help build dramatic action that keeps the reader turning the page.
The bones of most crimes are bare. The reporter's answers to who, what, when, where, why and how take few words. The novelist puts flesh on those bones by adding interesting characters, fascinating locations, and a plot that never underestimates the intellect of the reader.
Q. What's next?
Larry: Most of my six mystery novels begin with a connection to history. It may be the first bank robbery on Nantucket, the Boston Strangler case, or the Gardner Museum robbery. I am currently fascinated by Thomas Jefferson and his travels and amassed collections. He had the habit of scratching his initials onto items he prized. What if his initials showed up on…?
I shouldn't reveal more until I consult with Theo Perdoux to see what he thinks about all this.
The Perfect Crime
Before 11 priceless pieces of art were stolen from the Isabella Stewart Gardner Museum, a respected Italian violin maker visited the museum to inspect a rare musical instrument requiring restoration. He took measurements and photographs and reported his findings to the museum's director.
Then, he disappeared.
Was the innocent invitation to the violin maker the first step in a complex plot to rob the Gardner? The museum director thinks so and hires Theo R. Perdoux, an expert in worldwide art thefts, to investigate.
Inspired by the actual unsolved robbery of Boston's Gardner Museum, Maness spins a plausible web that races ahead like a shot. The brisk pace and clever twists offer an intriguing explanation why masterpieces worth millions have never been found.