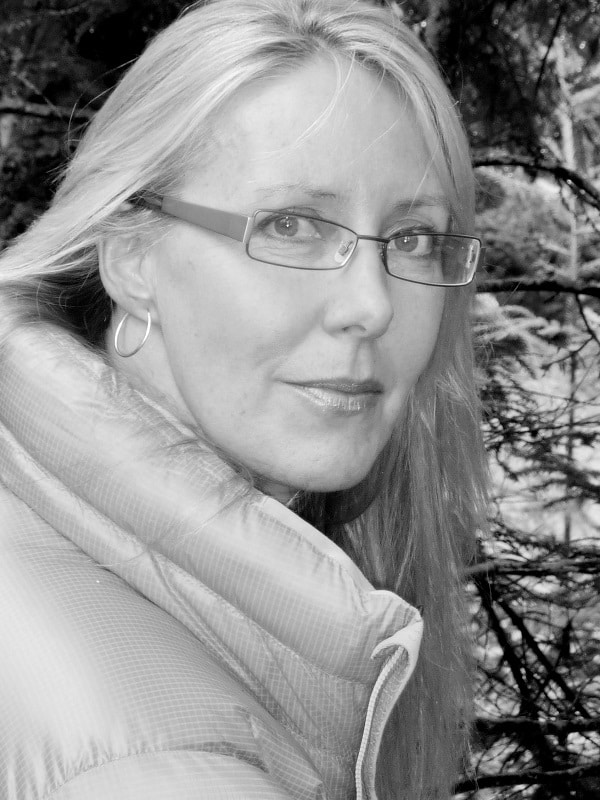 Loreth Anne White is an Amazon Charts and Washington Post bestselling author of thrillers, mysteries, and suspense. With well over 2 million books sold around the world, she is a three-time RITA finalist, an overall Daphne du Maurier Award winner, Arthur Ellis finalist, and winner of multiple industry awards.
Q. Beneath Devil's Bridge is coming out next month (June 1, 2021). What can you tell us about the book and Trinity, the true crime podcaster?
LAW: Trinity is young, restless, and eager to make a name for herself in the increasingly crowded arena of true-crime podcasting, and she's scored a lucky break: Convicted murderer Clayton Jay Pelley has never spoken about his crime, until now—he's agreed to tell Trinity what really happened. But this forces young Trinity up against retired detective Rachel Walczak who put Pelley behind bars years ago. In essence Trinity and Rachel represent mirror ends of the female age spectrum—the energetic young sleuth hungry for the fame of solving a crime, and the older, jaded detective burned by the life of crime. The two will need to compromise and come together in the middle to find the truth, and it will shock them both.
Q. There are shades of Hannibal Lecter in the killer interview in Beneath Devil's Bridge. What were some of your influences for this book? How about your career overall?
LAW: I am honored by that reference! I've always been drawn to the mystery and thriller genres, so I suppose I've been shaped in some ways by the Hannibal Lecters, the Clarice Starlings, and the Kay Scarpettas of old. But for this particular story I was influenced by the tone and scope of television series that explore how crime can shatter families and friendships, like UNFORGOTTEN, BROAD CHURCH, HAPPY VALLEY, and THE KILLING (even TWIN PEAKS for echoes of atmosphere and the small town setting – the name of a landmark in my book, Twin Falls, is a nod to this.)
Q. You've said elsewhere that the moment when you decided you wanted to become an author was while you were a journalist in South Africa, stuck in an office building. What's the story there?
LAW: I was a journalist for 16 years before I tried my hand at fiction, but if I had to pinpoint a moment in time where a seed was planted to try my hand at making things up, it was in Cape Town South Africa in 1989, when we were all barricaded inside our newspaper office building during a ground-breaking anti-apartheid protest demanding that Nelson Mandela be freed. It was known as the Purple March—or the Purple Rain Protest—because the apartheid-era police put purple dye in their water cannons so they could spray the crowds of thousands and later identify and hunt down protestors after the march. Ironically, while locked in our building that day, with helicopters thudding overhead, the swelling crowds chanting and singing and toyi-toying in the streets as they faced bullets and razor wire and water cannons, one of the reporters told us about someone who'd written a Mills and Boon novel and made a bunch of money, and she asked: How hard could that be? To pass time, we all began to bang out alternating chapters of a romance novel which of course were horrendous. The day passed, Mandela was freed, the first democratic elections were held, but oddly, a little seed was sown in my brain that day. It took many more years and a move across continents before I actually sat down and gave it a good try. That was my first sale—a romantic suspense—to Harlequin/Silhouette.
Q. You're perhaps best known for your romantic thrillers. What does genre mean to you? Is it important to keep firm lines, or do they blur?
LAW: I've always murdered people in my stories! I've always put characters in life-and-death situations, and I've always loved the excitement of reading thrillers, espionage, and adventure novels. So my early romances blended these elements. My first novels landed squarely in the romantic suspense genre, where a romantic arc is tightly-braided into a suspense/mystery/adventure arc, and where each thread informs and drives the other. And I wrote these stories for a publishing imprint that required authors to consistently deliver on a certain set of genre and brand expectations. But after publishing about 20 works with my first publisher, I found I wanted to push the boundaries of the genre and steer into bigger plots, and grittier suspense, and I was beyond thrilled when Montlake offered me that opportunity with The Slow Burn Of Silence followed by A Dark Lure.
Montlake has also supported me as I have continued to lean more and more into straight mystery and suspense/thrillers. My first true 'non-romance' for Montlake was In The Deep (In The Dark still has a teensy bit of a romance frame), followed by Beneath Devil's Bridge, and I am loving the new territory and the possibilities ahead.
Q. What are you working on now?
LAW: Right now I'm doing edits on The Patient's Secret, which launches March 1, 2022. Like Beneath Devil's Bridge, this one is also inspired by an awful crime that occurred not that long ago.  It's a psychological/domestic suspense with true crime as a narrative thread. My editors are excited about it, and my agent has described it as an intricately-plotted, fast-paced, delicious, edge-of-seat read—it's Little Fires Everywhere meets The Undoing meets Big Little Lies – a family drama, mixed with jealous, backstabbing, suspicious suburban moms, and … murder.
Loreth Anne White's Latest
Beneath Devil's Bridge
True crime podcaster Trinity Scott is chasing breakout success, and her new serial looks like it will get her there. Her subject is Clayton Jay Pelley. More than two decades ago, the respected family man and guidance counselor confessed to the brutal murder of teenage student Leena Rai. Why he killed her has always been a mystery.
In a series of exclusive interviews from prison he promises to tell Trinity the truth about what happened that night beneath Devil's Bridge. What Clayton says shocks the Pacific Northwest town of Twin Falls to the core. But is Clayton lying now? Or was he lying then?
As ratings skyrocket, Trinity is missing a key player in the story: Rachel Walczak, the retired detective who revealed Pelley's twisted urges and put him behind bars. She's not playing Clayton's game–until Trinity digs deeper and the podcast reverb widens. Then Rachel begins to question everything she thinks she knows about the past.