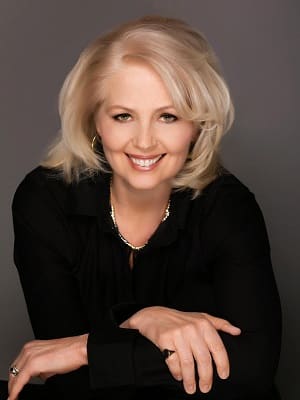 Mary Burton, whose latest novel is NEAR YOU, loves writing suspense, getting to know her characters, keeping up with law enforcement and forensic procedure, morning walks, baking, and tiny dachshunds. She also enjoys hunting down serial killers, which she does in her New York Times and USA Today bestselling novels. 
Q. Near You is getting a lot of buzz, including from our review team, which called it a "dark, blood-chilling psychological thriller with just a touch of romance." What inspired the story?
Mary: The characters are the big drivers in this story.  The jumping off point for Near You is the killer who is intelligent, obsessive, charming, and very dangerous.  On par with the murderer is heroine Ann Bailey, a forensic psychologist, who has her own dark secrets.  Along with Montana State Police officer Bryce McCabe, Ann is dedicated to solving the gruesome murders of three women who were obsessed with ex-convict Elijah Weston, Ann's former lover.  And of course, Elijah, is brilliant, driven and harbors a dark fascination with Ann.
Q. As a crime writer, you're a master of hunting serial killers on the page. How did you develop an interest in the darkest kind of human? What about these real-life monsters draws our attention? 
Mary: Like my readers, I'm fascinated by real-life monsters because they threaten what is basic to us all—safety, security and survival.  In fiction, whether these characters kill mindlessly or have an agenda, their evil deeds drive a suspense novel. They break rules, test the hero's skills and character, and keep the pages turning.  Without the villain, there would be no story, which is why I spend so much time trying to understand them. 
Q. On a much lighter topic, you're famously a lover of baking, and even earned a pastry certificate. How does baking show up in any of your stories?
Mary: Baking is another expression of creativity that offers me a break from the computer.  If I hit a snag in a story, I often head to the kitchen, inventory the ingredients in my cupboard, and then start baking.  It's a running joke in my house that the status of my latest novel can be measured by the number of cupcakes on the counter.  I also can't tell you how many times the simple act of baking has shaken loose as I'm putting the third batch of cookies in the oven.  That third tray of cookies usually ends up overcooked because I'm already back at the computer furiously typing. 
Q. Have you read anything lately you enjoyed?
Mary: I just finished Brit Bennett's The Vanishing Half, Sue Monk Kidd's The Book of Longings and Lucy Foley's The Guest List.  Loved them all.
Q. What are you working on now?
Mary: My next novel, Don't Look Now, follows Austin Homicide Detective Jordan Poe, who in the pursuit of a killer loses her vision after he attacks her.  Jordan must learn how to navigate the world she no longer recognizes and with Texas Ranger Carter Spencer find the man who attacked Jordan and is targeting more women.
Near You
Forensic psychologist and single mother Ann Bailey has joined forces with Montana Highway Patrol officer Bryce McCabe. An expert in untangling the motives of depraved minds, Ann is tasked to help solve the mystery of two murdered women doused with gasoline and set aflame.
It's not hard for Ann to be reminded of the charismatic Elijah Weston, who served a decade in prison for arson—a crime that nearly cost Ann her life. Elijah may have been exonerated, but the connection to these rage killings is impossible for Ann to ignore. One of the victims has been identified as an obsessed Elijah groupie. Elijah has obsessions, too. Ever since Ann returned to town, he can't take his eyes off her. And as a mother with a secret, she's the perfect victim for an infatuated psychopath.
The deeper Ann and Bryce's investigation goes, the nearer they get to each other and to danger. After another murder hits close to home, Ann fears a clue is hidden in her own past. Only one thing terrifies her more than the reveal of her long-held secret. It's that the secret itself has put Ann into a killer's line of fire.