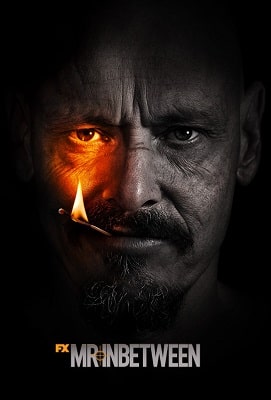 Rating: TV-MA
Created by: Scott Ryan
Run Date:  2018 – 2021
If you have not heard of the Australian television series Mr. Inbetween, don't feel alone, and if you haven't started watching it and are planning to, get ready for a very pleasant surprise.
From the recent commentary of Mr. Inbetween, it seems very likely this television series is going to go down as one of those best shows not enough people have watched. Yes, while this program may not suit everyone's taste, it is strange how this show is not more popular, especially in the United States, where television programs like Breaking Bad have been overwhelmingly popular and critically praised.
Mr. Inbetween the series is based upon the 2005 Australian mockumentary movie The Magician. Both the mocumentary and series are created by and star Scott Ryan, who reprises the role of Ray Shoesmith (Scott Ryan) in the series.
Shoesmith is a hireable Jack of All Trades doing the dirty work of those willing to pay his price.  These tasks involve everything from killings to acting as a courier.  More or less, if someone is willing to pay, Ray Shoesmith will gladly play.
While Shoesmith exhibits almost sociopathic behavior when it comes to his hired tasks, he also has strict moral codes when it comes to family and friends, especially his daughter Brittany (Chika Yasumaru).
Shoesmith's strip club owner friend Freddy, played by fellow Aussie actor Damon Herriman, acts as a broker for those wanting to hire the man known as The Magician.  Herriman will be recognized for playing Dewey Crowe from the series Justified and Charles Manson from the Netflix series Mindhunter and the movie Once Upon A Time In Hollywood.
As Shoesmith, Scott Ryan successfully portrays the lead character with both ferocious lethality and charismatic charm and creates a character where it is very hard to dislike Shoesmith for what he does when employed. 
As the title of the program suggests, Shoesmith truly is a man found in between both ends of the spectrum of human behavior: when it comes to his jobs he is stoic and brutal with machine-like precision, but to family and friends he is caring and loyal to the extreme.
Mr. Inbetween is a graphically violent series but at the same time with touching scenes of heartfelt drama.  It is a humorous show and a show with scenes that go where the viewer will be surprised at and possibly shocked.
Sadly, FX has ended the series after three seasons.
Mr. Inbetween is highly recommended to fans of gritty, humorous crime programs and should be enjoyed by those that enjoy programs such as Breaking Bad, Better Call Saul, and Justified.
All three seasons of Mr. Inbetween are currently being streamed on Hulu, with each episode thirty minutes long.
More Screen Mystery and Crime