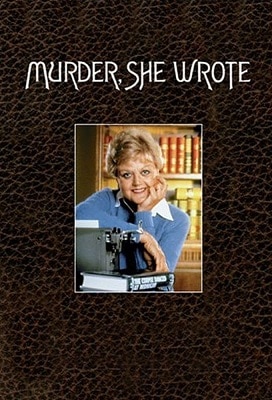 reviewed by Briony Williamson
Murder She Wrote — Season Twelve
Network:   NBC
Premiere Date:  Sept. 21, 1995
When Season Twelve of Murder She Wrote premiered in September 1995, Jessica Fletcher had come a long way from her origins as a widowed substitute high school teacher. Far from being the retired single woman living quietly in coastal Maine, JB Fletcher was now a busy A-List celebrity. Jessica was now dividing her time between her apartment in New York City where she taught criminology part time (a surprising job for a retired English substitute teacher), and her house in Cabot Cove, but all the while spending just as much time travelling the world for fancy arts festivals and getting tangled up in espionage intrigues.
At the time the season began, Murder She Wrote was still rating in the top ten in America, and had cultivated a devoted following of fans across the world. Angela Lansbury though, was tired of the demands of a 22-episode filming schedule. This wasn't the first time she'd signaled her intent to retire from the show—as far back as Season 4 she had had misgivings about the demands of the role and the filming schedule it required. Back then, the producers came up with a work around—the so-called "book-end episodes," where Jessica Fletcher would introduce and conclude a story that involved one of her friends such as Dennis Stanton (Keith Michell) or Harry McGraw (Jerry Orbach).
Whether or not the producers had an opportunity to come up with a workaround for after Season 12 we will never know – CBS took the unusual step of moving Murder She Wrote from its regular Sunday night slot to Thursday nights, placing it in direct competition with NBC's Must See TV Line-Up which included shows like Friends and Seinfeld. Ratings plummeted, and the network ultimately decided to cancel the show.
While CBS may not have intended to kill off Murder She Wrote, fans of the show definitely felt like this was the case and it would seem production staff did too. In Episode 16 of the final season ('Murder Amongst Friends'), Jessica is trying to work on a documentary series about murder mysteries, but the network she's signed to is focusing all of its attention on a new show about six twenty-something friends living in the big city.  In the series finale, 'Death By Demographics,' JB has a friend at a San Francisco radio station who is forced into sharing airtime with a shock jock in order to appeal to a younger demographic.
These pointed references aside, Season Twelve sees Jessica Fletcher off in style by ticking off all the fan favorite plots. There's a two part mystery involving a haunted Irish castle, dramatic murders in exotic locations (Japan, Italy and Australia), road trips across America, jewel thieves in the Grand Tetons and of course solving the unquestionably high murder rate in Cabot Cove. The second last episode of the series, (Mrs. Parker's Revenge), sees Jessica inadvertently tangle with the FBI, CIA and NSA and in doing so averts an international crisis.
While Murder She Wrote might not have had the youth demographic the network was so craving back in 1996, it has become a favorite now. As the pandemic kicked, people all over the world went on the hunt for comfort viewing, and there is nothing more comforting than a woman in her 60s reinventing herself. Jessica may have been in retirement for nearly thirty years, but she's finally reached that younger demographic, a gentle reminder that you should never try to prove JB Fletcher wrong. 
Discovering the singer's murderer might not be the only shock in store
read more