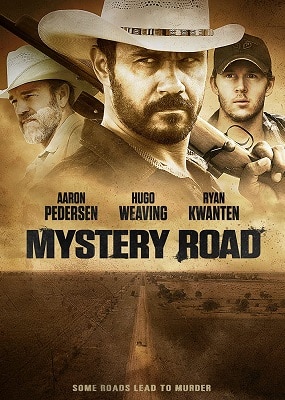 Mystery Road
Rating: Not Rated
Created by: Ivan Sen
Run Date:  2018 – present
Aaron Pederson portrays Jay Swan, an Australian Indigenous police detective, in two movies and two seasons of a television series. The first arrival of Jay Swan is found in the 2013 movie Mystery Road, with his return in the 2016 movie Goldstone. Pederson then returns for two more seasons in the series also titled Mystery Road. The timeline of the television series falls between the two movies.
In Mystery Road, the movie, Swan returns to Winton, Queensland as a detective and becomes the main and sole investigator into the murder of a young Aboriginal teen after a truck driver has found her body in a concrete culvert along a desolate stretch of highway.
As Jay Swan starts the investigation, he finds himself at odds with both the White world of Australia, including his fellow police officers and his own race while also being treated as an outcast.
In Goldstone, Jay has been sent to the mining town Goldstone regarding a missing Asian man. In his investigation, he soon runs afoul of locals and gains the assistance of much less experienced local police officer Josh Waters (Alex Russell). Wonderful Australian actress Jackie Weaver also appears as the mover and shaker mayor of Goldstone and continues her excellent portrayal of a villainess whose smile easily distracts viewers from her soon-to-strike deadly fangs.
Pederson again reprises his Jay Swan role in two seasons of Mystery Road, each six episodes long. In the first season, Swan is assigned to investigate the disappearance of two young men. One is a local Indigenous football player and the other a White backpacker. The investigation then develops into a much deeper conspiracy with Swan assisted by local officer Emma James (Judy Davis).
In the second season, a headless body is found in the shallow waters of the mangroves with Swan again tasked with the investigation that soon spirals deeper than first imagined. Jay's duties become more difficult when a young policewoman working alongside him is pulled deep into Aboriginal matters complicated by the presence of an anthropologist (Sofia Heflin) digging in sacred Aboriginal lands.
The two seasons and movies can easily be described as modern-day Westerns. The portrayal and filming of the Australian environment are vast, with techniques used that allow exteriors to envelop the human performers. As with Westerns, to create a visually successful depiction, the environment must also become instrumental to the story and actors. In all of these, the Australian environment does exactly that – it becomes part of the story and makes the viewer feel a need to brush off the dust and rinse the grit from one's mouth after watching these movies and the series.
The acting in these shows is excellent, with the creators enlisting a reliable stable of both well and lesser-known performers. Tasma Walton, as Mary Swan, appears in the first movie and reprises her role as Jay Swan's ex in the latter two seasons, with Callan Mulvey playing her suiter in the 2020 season, adding further tension to Jay Swan's life.
Of course, the engine of the movies and series is Aaron Pederson's depiction of Jay Swan. Pederson's rendering of Swan is both simple and complex at the same time. His exterior is often as a stoic, blank-faced man that realizes his station in life and makes others uncomfortable with his silence while they wait for him to reveal what he knows, which he often does not do.
The series and movies are highly recommended to fans of gritty westerns and police procedurals heavy in both character development and visuals.
These shows are available on various streaming applications.
More Screen Mystery and Crime