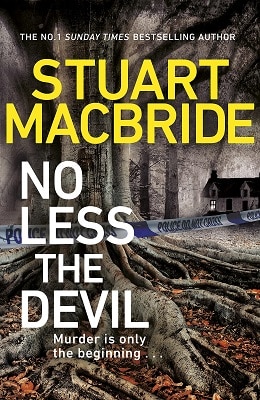 reviewed by Carolyn Scott
Well, this new novel from Stuart MacBride is bound to stir up some controversy amongst his readers!
Let me explain. It's a book of two distinct parts. The first 80% of the book reads like a traditional hunt for a serial killer, although one imbued with MacBride's trademark grittiness and sarcastic humor. Someone has committing five brutal murders, including souveniring the hearts of seemingly unconnected strangers in the Scottish town of Oldcastle. After seventeen months, the police investigation, 'Operation Maypole', is no closer to finding the killer nicknamed 'The Bloodsmith', and the case has now been bumped down the line to DI Turner and his team with instructions to make a fast arrest. DS Lucy McVeigh and her partner DC Duncan (the Dunk) Fraser are charged by Turner to take a fresh look at all the evidence to date while the team also investigate the recent killing of a homeless man found next to the killer's signature message scrawled on a wall.
So, at close to four hundred pages of the novel, the plot is progressing steadily with Lucy and Dunk making headway on what connects the murders. It doesn't have the pace and brilliance of McBride's Logan MacRae series and while the main serial killer plot is interesting, it just isn't gripping me yet and I don't feel as invested in Lucy as I am with Logan.  However, there's an interesting subplot involving a very elite school, some precocious children and a creepy teacher that is looking promising and may also tie in with the opening scene of the novel that has so far not been explained. Then very abruptly, a totally unpredictable twist asks us to re-interpret everything we thought was happening. A very twisty shock of a bombshell indeed, that not all readers are going to be happy about.
What happens in the last 20% of the novel, will change your perception of what has been happening to Lucy. She's depicted as a prickly, difficult character who overcame a difficult childhood to go on to become a well-respected detective. Her insight and different way of looking at things has often provided the breakthrough needed to solve a crime. However, she is currently suffering PTSD from having recently killed a man in self-defense and is being harassed by his mother who believes she murdered him.
To make matters worse, Lucy has a stalker who keeps turning up at her home and work and someone called Charlie from Professional Standards is tailing her trying to get her to talk to him. It's no wonder she is often grumpy and is nursing a constant headache which doesn't improve her mood. Lucy is fortunate that she has the relaxed and affable Dunk as her partner and MacBride's signature snappy dialogue, sarcasm and humor keeps their relationship interesting. After the major twist, the book takes on quite a different flavor. It's almost as if MacBride has taken all the quirkiness and occasional bizarreness that usually color his Logan MacRae series and condensed it all into the last hundred pages.
I did find that I got more accepting of the twist as I read on, but personally I'm not sure the added craziness and stretch of credibility was necessary as the novel was heading for a pretty thrilling ending without it. One thing is for sure, once you get over the initial shock, it's a wild ride, very original and definitely edgy, but will you applaud or jeer at the end? You'll just have to read it and make up your own mind.
With thanks to Random House UK via Netgalley for a copy to read. Publication April 28th.