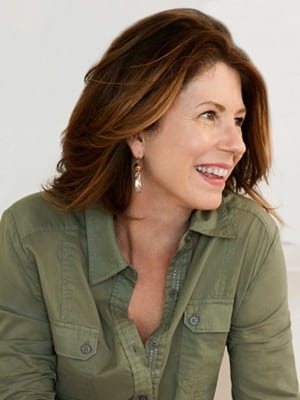 Paula McLain is the author of the New York Times and internationally bestselling novels, The Paris Wife, Circling the Sun and Love and Ruin. Now she introduces When the Stars Go Dark (April 13, 2021), an atmospheric novel of intertwined destinies and heart-wrenching suspense.
Q. When The Stars Go Dark released yesterday, 4/13. What prompted you to write this story?
Paula: The idea came at me out of nowhere a few years ago, when I was on a long walk with my dog, Piper. I happened to be in the middle of drafting my third historical novel, Love and Ruin, but sometimes inspiration doesn't care at all that you're busy with other things! By the time I got home from the walk, I could see the whole story arc, the setting, and the essential emotional underpinning…a missing girl, a small town in crisis, the troubled detective who gets involved because she has to, for her own healing. Still, as exciting and undeniable as the idea was, I felt a lot of fear about whether I should take the risk and plunge into a new genre. "What do I know about suspense?" I asked my agent, Julie Barer, who's also become a dear friend over the years. "You don't have to write an original mystery," she reminded me wisely, talking me down from the ledge. "You write about people. A deep dive into character. Just do that—be who you are—and you won't go wrong."
Q. What actual cases of missing persons did you research in writing When The Stars Go Dark?
Paula: Most of my time and energy went into researching Polly Klaas, whose kidnapping from Petaluma in 1993 kicked off the largest manhunt in California history. Distressingly, there were several other mostly-unsolved child and teen abductions that occurred in the same geographical area and general timeframe that I also spent time researching for my story: thirteen-year-old Ilene Beth Misheloff, who vanished walking home from school in January of 1989, in Dublin, California; eleven-year-old Jaycee Dugard, who was abducted on her way to the school bus one morning in 1991, in Meyers, California, near Lake Tahoe; and seven-year-old Amber Swartz-Garcia, who vanished while jumping rope in her own front yard in Pinole, California, in 1988.
There's a second timeframe in my novel, which also delves into actual missing persons cases that factor in my plotline. The as-yet unsolved Santa Rosa Hitchhiker Murders occurred in 1972-1973, when seven women, ranging from the ages of 13 to 23 were found in culverts and creek beds, bound and brutally murdered, in and around Santa Rosa, California. To deepen the backstory of my detective, Anna Hart, I added a storyline about a high school friend of Anna's who vanishes from their small town of Mendocino, not far from Santa Rosa, in 1972, and is suspected to be one of the Hitchhiker Murderer's victims.
Q. One of your great strengths is bringing to life historical figures, especially remarkable women. What is your research like?
Paula: I love research! It often feels like a never-ending continuing education course, in the best possible way. I've learned the ins and outs of bullfighting, racehorse training, colonial Africa, vintage bi-planes, and now true crime. My process is very immersive and instinctive, and a little chaotic. Usually, the moment I have an idea, I begin to write like crazy, and then plunge into the research just as crazily to try to keep up with myself. I have done a lot of travel for research, to Paris and Kenya and Cuba, to name a few. I spent a lot of time in Mendocino for this novel, wanting to get the atmosphere right, so that the place itself came alive as a character.
Q. Have you discovered anything really interesting in your research that never made one of your books?
Paula: There was a long section in an early draft of this novel that concerned the disappearance of Kevin Collins, a fourth-grader who vanished from the Haight-Ashbury neighborhood of San Francisco in 1984, and was one of the very first missing children to appear on milk cartons, and to receive national attention. I really wanted to stress the tension for Anna, my detective, that not all children land on milk cartons. Many aren't even reported missing—devastatingly. And yet as the book grew, I had to let this storyline/backstory focus on events in Anna's present that drive the action forward.
When The Stars Go Dark
Anna Hart is a seasoned missing persons detective in San Francisco with far too much knowledge of the darkest side of human nature. When overwhelming tragedy strikes her personal life, Anna, desperate and numb, flees to the Northern California village of Mendocino to grieve. She lived there as a child with her beloved foster parents, and now she believes it might be the only place left for her. Yet the day she arrives, she learns a local teenage girl has gone missing. The crime feels frighteningly reminiscent of the most crucial time in Anna's childhood, when the unsolved murder of a young girl touched Mendocino and changed the community forever. As past and present collide, Anna realizes that she has been led to this moment. The most difficult lessons of her life have given her insight into how victims come into contact with violent predators. As Anna becomes obsessed with the missing girl, she must accept that true courage means getting out of her own way and learning to let others in.
Weaving together actual cases of missing persons, trauma theory, and a hint of the metaphysical, this propulsive and deeply affecting novel tells a story of fate, necessary redemption, and what it takes, when the worst happens, to reclaim our lives–and our faith in one another.