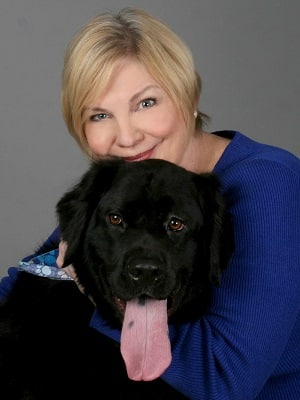 Paula Munier is the USA Today best-selling author of the Mercy Carr mystery series about two military police veterans suffering PSTD—one a wounded female and the other, a bombing-sniffing Belgian Malinois. The series is set in the beautiful state of Vermont. In addition to being an award-winning author, Munier is also the Senior Literary Agent and Content Strategist at Talcott Notch Literary Services and a sought-after writing teacher and editor. Her third book in the Mercy Carr series, The Hiding Place, will be available March 30, 2021.
Q. With the release of your third Mercy Carr mystery, what makes Mercy's books unique?
Paula: This is a tough question. I can say this: I set out to write the kind of his-and-her mysteries I most love to read, as exemplified by Julia Spencer-Fleming's Clare Fergusson and Russ Van Alstyne series and Elly Griffiths' Ruth Galloway and Harry Nelson series. I'd just helped out at a MissionK9Rescue fundraiser and fell in love with the working dogs and their handlers I met there. I paired Mercy with Elvis the Malinois and Troy with Susie Bear the Newfoundland-retriever and realized that I had "the same, but different" USP I use as an agent when I pitch projects to publishers: "Julia Spencer-Fleming with dogs."
When the series debuted and Library Journal said that it was reminiscent of Julia Spencer-Fleming, only with dogs, I was beyond ecstatic.
Q. As an author, editor, literary agent, and book devotee, what is most important to you in judging the quality of a book—plot or character? And does it vary with your different hats?
Paula: I will tell you what I am looking for, as an author, editor, literary agent, and book devotee. It's what we are all looking for: That feeling that you get when you open a new book by your favorite author—the one you are willing to buy in hardcover the minute it comes out—and you pour a cup of tea or glass of wine and curl up on your couch with a cat on your lap and a dog at your feet, and you read the first page and every part of you from your little grey cells down to your little toes goes, "Ahhhhh." You know you're in for a good ride.
That feeling is what sells books. And it's a feeling evoked by voice more than anything else. The voice of a storyteller who has earned the trust of the reader right there on page one—trust that the story of this character going this journey will be worth the time it takes to read it.
Q. Some readers believe mysteries and thrillers need a murder to be exciting. What are your thoughts?
Paula: Well, it's tough to sell a murder mystery without a murder. (As an agent, I'm not even going to try.) Crime fiction is about life and death and the search for truth and justice. These are high-stakes themes, and so you need high-stakes plots. Which means stories that put the hearts and minds, bodies and even the very souls of your characters at risk.
Q. Your books have a wonderful cast of interesting characters like Mercy's grandmother, Patience, the veterinarian. Where do you find them?
Paula: Patience is an homage to the women of my family, a composite who embodies the generosity of my Irish grandmother, the common-sense wisdom of my Alsatian grandmother, and the self-possession—and superlative baking skills—of my mother.
I'm thrilled that readers seem to love Patience as much I do. I wish my grandmothers were still around to enjoy her. But my mother is here, and she gets a kick out of Patience, although I suspect she secretly prefers Mercy's mother Grace, whose ultra-chic aesthetic is as refined as her own.
Q. Some fiction writers want to convey a message in their stories, some want to educate their audience, some hope to create a work of literary art, and some simply want to entertain. What is the main thing you want your readers to take away from the Mercy books, and does it vary from book to book?
Paula: My primary objective is to write a story that engages and entertains readers. Of course I want them to fall in love with Mercy and Elvis and Troy and Susie Bear and the rest of the Northshire gang—so much so that they'll want to spend more time in their company, just as I do.
That said, I write about the things that I love and that are important to me: the people and places of New England, active and retired military, nature and wildlife, and the age-old relationship between humans and canines (and felines). In so doing, I inevitably weave in storylines that highlight, say, the problems facing female veterans (Blind Search) or the at-risk offspring of our beloved moose population (The Hiding Place).
Ultimately, however, I try to remember and observe the old publishing adage: First page sells the book; last page sells the next book.
Q. You've said that the second book, Blind Search, was the most difficult to write. Did the process grow easier with number three, your new release, The Hiding Place?
Paula: Unfortunately, being an agent and an editor did not prevent me from avoiding any of the perils or pitfalls of the dreaded "Book Two." But I'm happy to say that The Hiding Place was a far easier book to write, perhaps because of my struggle with Blind Search. I learned so much from the many revisions I did of Blind Search that I knew that no matter how awful the first draft of The Hiding Place proved to be, I could always fix it. I also learned not to let a secondary character run away with the story, which was part of the problem with the early drafts of Blind Search. 
Q. Blind Search recently won a Dog Writers Association of America award. Can you tell us a little bit about that and how you feel about it?
Paula: Such a lovely surprise! A Borrowing of Bones, the first book in the series, won both a DWAA and the Dogwise Book of the Year of the Award, so I never dreamed that lightning could strike twice. DWAA is made up of dog people who are also professional writers, and they understand the challenges of creating plausible canine characters. Being acknowledged by my dog-writing peers is a true honor.
Not to mention that given the aforementioned sweat and tears that went into writing Blind Search, I was doubly thrilled.
Q. Kirkus Reviews has called The Hiding Place, "Another exciting, complex, dog-centric mystery." Tell us a little about the book.
Paula: When I began writing this third book in the series, I had a title and a premise. I'd come up with a list of a hundred titles when writing the second book—even the title didn't work!—and while the publisher finally settled on Blind Search, The Hiding Place was the runner-up favorite. So my genius editor said, "Why don't you write about one of Mercy's grandfather's cold cases and call it The Hiding Place?"
Which was a great idea, Mercy's grandfather having been a sheriff killed in the line of duty when she was a child. Unfortunately, I had no idea how to write a cold case mystery—but I was determined to figure it out. I started reading all the cold-case mysteries I could and came across the fabulous Highway 59 novels by Attica Locke. It was like a master class in cold-case novels—but more than that, truly great reads.
Inspired, I set out to write a mystery that would reveal the fissures in Mercy's family, past and present:  When the man who killed her grandfather breaks out of prison and comes after her grandmother, Mercy must unearth the long-buried scandals that threaten to tear her family apart. And she may have to do it without her beloved canine partner Elvis, if his former handler has his way…
Q. In closing, what future literary projects are on your drawing board?
Paula: I'm writing Book Four—as yet untitled—right now. All I can tell you is that it takes place at a wedding in Vermont in June—and that bad things happen before there can be a happily ever after. Just like in real life.
The Hiding Place
When her late grandfather's dying deputy calls Mercy to his side, she and Elvis inherit the cold case that haunted him—and may have killed him. But finding Beth Kilgore 20 years after she disappeared is more than a lost cause. It's a Pandora's box releasing a rain of evil on the very people Mercy and Elvis hold most dear.
The timing couldn't be worse when the man who murdered her grandfather escapes from prison and a fellow Army vet turns up claiming that Elvis is his dog, not hers. With her grandmother Patience gone missing, and Elvis's future uncertain, Mercy faces the prospect of losing her most treasured allies, the only ones she believes truly love and understand her.
She needs help, and that means forgiving Vermont Game Warden Troy Warner long enough to enlist his aid. With time running out for Patience, Mercy and Elvis must team up with Troy and his search-and-rescue dog Susie Bear to unravel the secrets of the past and save her grandmother—before it's too late.