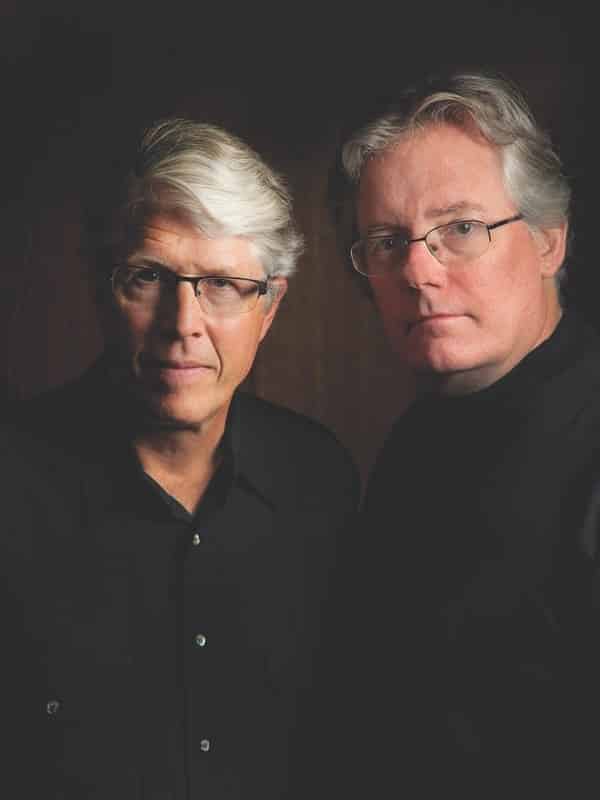 Douglas Preston: is a journalist and author who, in addition to is work with Lincoln Child, has also written six solo novels. He has authored a half-dozen nonfiction books on science and exploration and writes occasionally for The New Yorker, Smithsonian, and other magazines.

Lincoln Child: He has also written seven solo novels, including the Jeremy Logan series. Over twenty of the collaborative novels and most of his solo novels have become New York Times bestsellers, some reaching the #1 position. Child and Preston's first novel together, Relic, was adapted into a feature film. Their books are notable for their thorough research and scientific accuracy.
Q. The latest in the Pendergast series, Bloodless, finds the FBI agent on the case of bodies drained entirely of blood. Your creativity in crime continues. What inspired this story?
Linc: Pendergast undertook his last few investigations in Florida, and we were expecting to see him back in New York by now. However, this detour to Savannah allows us to take full advantage of the city's long history of colorful and (reputedly) supernatural events. In addition, vampire legends like the one that rises in Bloodless fit very nicely into a thriller because, for all the occult attributes one would expect (e.g., sleeping in a coffin, etc.), there are also elements of more typical murders—such as extreme blood loss—that allow us to blend scientific and forensic investigation with the weird and inexplicable.
Doug: Linc and I both love Savannah and long ago saw its potential for a creepy, quasi-supernatural thriller. We finally found a way to bring Pendergast and Agent Coldmoon there. We take full advantage of the setting, including the famed Bonaventure Cemetery.
Q. Why is the American South such a great setting for crime?
Doug: Not only is it Pendergast's native stomping ground, but the south has such a rich gothic literary history—Tennessee Williams, William Faulkner—that it fits perfectly with the kind of thrillers we write, which often trend slightly to the outré no matter where they're situated. Besides, having Pendergast leave New York City every now and then seems to have a revivifying effect on his investigations…even if he is frequently displeased by the change of scenery.
Q. You've been able to keep this series fresh twenty books in. What's the secret to avoiding the rut? And what's the secret to managing a writing partnership through all these years?
Linc: We almost hate to give away these secrets when they've rewarded us so handsomely. But the fact is, they aren't really secrets, per se. Part of our recipe for success as a partnership is, in fact, the partnership itself. We never let each other take a wrong turn or let our guard down for any length of time. And whatever one of us writes tends to encourage the other partner to friendly, and productive, competition. As for the 'rut,' we've been lucky in not encountering one. We love to write, and we write the kind of books we'd enjoy reading; if it ever felt laborious, we'd simply stop until the fit passed. And as for the partnership, we've simply been very, very lucky: when it comes to co-authoring (fiction, at least), you have to not only respect your partner, but also trust him completely, while keeping a lid on your own ego. You have to find a truly symbiotic niche, where—when it comes to books in progress—one of us can almost finish the other one's sentences. I can't think of anyone else I could write novels with except for Doug, and I'm confident he feels the same.
Doug. I do. Linc has been the perfect writing partner. We're very lucky.
Q. Pendergast had long been under development by Paramount for screen adaptation. What's the story there?
Doug: This breaks our hearts, so I'll be brief. When Paramount initially bought the rights to our first book, Relic, they also acquired the character rights to Pendergast—even though he didn't appear in the movie. That complicates things enormously when it comes to making him available now, for either the big or small screen. But it is possible, and we've come close a few times—once, very close. All we can say is that Pendergast and his universe seem to us tailor-made for a series; there are numerous existing storylines ready to draw from; and we hope that a producer or showrunner with sufficient imagination will discover this, sooner rather than later!
Q. What are you working on now?
Linc: Currently, we're hard at work on the third novel in our new series of thrillers featuring two characters originally from the Pendergast universe: archaeologist Nora Kelly, and FBI rookie agent Corrie Swanson.
Doug: The novel is set in New Mexico and involves the Roswell Incident. Enough said.
Preston and Child's Latest
Bloodless
A fabulous heist:
On the evening of November 24, 1971, D. B. Cooper hijacked Flight 305—Portland to Seattle—with a fake bomb, collected a ransom of $200,000, and then parachuted from the rear of the plane, disappearing into the night…and into history.
A brutal crime steeped in legend and malevolence:
Fifty years later, Agent Pendergast takes on a bizarre and gruesome case: in the ghost-haunted city of Savannah, Georgia, bodies are found with no blood left in their veins—sowing panic and reviving whispered tales of the infamous Savannah Vampire.
A case like no other:
As the mystery rises along with the body count, Pendergast and his partner, Agent Coldmoon, race to understand how—or if—these murders are connected to the only unsolved skyjacking in American history. Together, they uncover not just the answer…but an unearthly evil beyond all imagining.