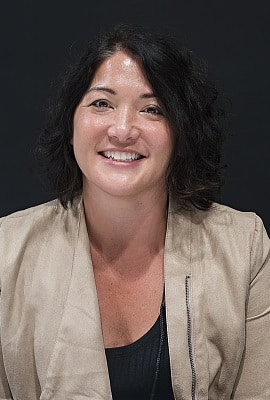 is a crime novelist, professor of law, and New York Times bestselling author of eighteen crime novels, including The Ex, The Wife, and The Better Sister, as well as two series—one featuring NYPD Detective Ellie Hatcher and the other Portland, Oregon, prosecutor Samantha Kincaid.
Q. After the success of your 2018 hit, The Wife, you were hired to write the screenplay. Can you tell us a little about that experience? What elements of writing a novel were transferrable?
Alafair: The arc of a screenplay is the same shape as the arc of a novel, so it helped that I knew the structure of the story and characters' journeys already.  But an adaptation forces you to really strip the book down to its most essential elements. You've got at most a couple hours of screen time.  And a specific challenge for bring The Wife to screen is that much of the novel is Angela alone in her house, replaying every aspect of her marriage to Jason, wondering how well she really knows her own husband.  That doesn't work in a screenplay.
Q. You've been lauded by some of the biggest names in the genre (Harlan Coben, Michael Connelly, Karin Slaughter) as well as media ranging from O (Oprah Magazine) to The Washington Post. How do you keep grounded under that kind of praise?
Alafair:  Oh, I'm not grounded at all.  I wake up every morning, look in the mirror, and tell myself how great I am, because everyone says so.  Yikes.  Not at all the case, of course.  My first novel was published more than 17 years ago, and I still feel like an outsider looking in at the publishing industry. Like a lot of writers, I'm a classic sufferer of imposter syndrome, convinced that at any minute, the hammer's going to drop, and no one will want to read what I write anymore.  It's not a happy headspace, to be honest, but I like to think it helps the work at the end of the day.  Got to keep hustling to write the best book possible. Readers can tell if a writer sits back and starts phoning it in.
Q. You attended Reed College in Portland, OR, and later practiced law as a deputy district attorney in the city. How did these experiences inform your character, Samantha Kincaid?
Alafair: I internalized the rhythm of a criminal case in my time as a prosecutor.  It helped that for two years, I worked outside of the courthouse and inside of a police precinct.  You get to know the way people in law enforcement talk to each other behind closed doors.  More recently, my books have been set in New York, where I have lived since 2003.  It's important to me that readers feel the city on the page, just like a main character.  The vibe of my Portland books is very different than the New York novels, because the cities themselves have such different heartbeats.
Q. Your novel, Piece of My Heart, with Mary Higgins Clark, is coming out this month (November 2020). What was your approach to collaboration? What were some of the joys and challenges?
Alafair: I still pinch myself that I was able to co-author six novels with Mary Higgins Clark.  She was such an inspiration, both personally and professionally.  We'd sit for hour and hours and think through the entire novel from beginning to end, talking through every characters' journey and every plot thread, before starting to write.  Then we'd start at the beginning and pass pages back and forth until we were done.  It was all joy.  The only occasional challenge was making sure we had the right version of the computer file on any given day!  This time, publication day will be a bittersweet celebration without Mary, but I'm so glad we were able to finish another book together for readers.
Q. What are you working on now?
Alafair: A new novel for 2021 called Find Me.  Stay tuned.
The bestselling thriller author on CODE RED
read more