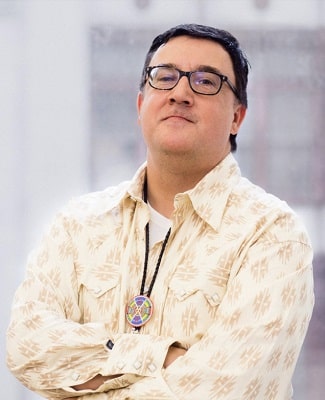 David Heska Wanbli Weiden
David's crime fiction debut, Winter Counts, was selected as a New York Times Editor's Choice, and received glowing reviews from dozens of publications including Time, CrimeReads, USA Today, and many more. David is a member of the Sicangu Lakota nation.
Q. The story in Winter Counts occurs on the Rosebud Indian Reservation in South Dakota, a place author C.J. Box calls "breathtaking and raw" when referring to your writing. How have your own experiences as a member of the Sicangu Lakota Nation shaped the sense of place in the book?
David: I felt a deep responsibility to portray life on the reservation honestly but also positively. Too often, non-Native journalists and writers focus on the problems on reservations but don't show the many positive developments happening in Indian Country. So, I used my own experiences as a Lakota person to portray the joy, humor, and determination of Native people.
Yes, there are certainly problems on many reservations:  poverty, substandard health care, poor housing. But Native people have survived countless traumas over the centuries, and we're still here. I hope that readers get a sense of the resiliency and spirit of Native Americans from Winter Counts. 
Q. You've said elsewhere that you were moved to tears by the Western classic, Lonesome Dove. How have genres outside mystery and thriller affected your writing? 
David: In my teenage years, I loved classic science fiction:  Isaac Asimov, Ray Bradbury, Robert Heinlein, and others. I also read spy novels (loved James Bond!), horror, and some Westerns. From those wonderful books, I learned how important it is to create a compelling plot, so that the reader keeps turning pages! For me, the best fiction combines a gripping story along with characters that I care about.
Also important is a wonderful setting, so I'm transported to a world that may be new to me. Finally, I love novels that vary the tone and style—balancing humor and satire along with action and suspense. Lonesome Dove is a wonderful example of this, of course. There are laugh-out-loud scenes along with those that evoke tears, and vividly drawn characters that stay with you.
I'll also note that Larry McMurtry's modern novels (The Last Picture Show, All My Friends Are Going to Be Strangers) also accomplish this. Mr. McMurtry was a major influence on my writing style, and I hope we'll see more books from him.
Q. What do you read in your spare time?
David: I read a wide variety of books in what little spare time I have. Lately, I've enjoyed S.A. Cosby's Blacktop Wasteland, David Treuer's The Heartbeat of Wounded Knee, William Kent Krueger's The Tender Land, and Hillbilly Hustle by Wesley Browne. Another great book—a techno-thriller—is The Effort by Claire Holroyde. The novel will be released next year, but I was lucky enough to get an early copy. I'm currently reading The Only Good Indians by Stephen Graham Jones and enjoying it immensely.
Q. Virgil, the enforcer in Winter Counts, is a compelling protagonist. How do you write characters that come alive?
David: Even though Virgil Wounded Horse—a hired vigilante—could not be more different than myself, I drew upon some of my own experiences to create his character. In the book, Virgil is the guardian of his nephew Nathan, and I was able to tap into my own life as a father of two teenage boys to write those scenes. But the primary technique that I use (as do most writers, I suspect) is to imagine myself as that person, so that a truthful and compelling portrait can emerge.
I spend a lot of time writing the background and life story for each major character, even though most of that doesn't make it into the book. What was their youth like, how do they dress, what type of music do they listen to? This work really pays off, as I sometimes discover character quirks that surprise me and take the story into a different direction than I'd planned.
Q. I've heard rumors that your next book, a sequel to Winter Counts is called Wounded Horse. When does that drop? And what can readers expect?
David: Yes, I'm happy to confirm that there will be a sequel. It's tentatively titled Wounded Horse, and I'm working on it right now. My best estimate is that it will appear sometime in 2022. Virgil, Marie, Nathan, and Tommy will all return, and there will be a new and surprising character. I can also confirm that the dog Ava (Ann Short Bear's pet) will be in the book. My readers really loved her, and I'm happy to oblige!
The romantic suspense author on SHADOWS AT DUSK
read more