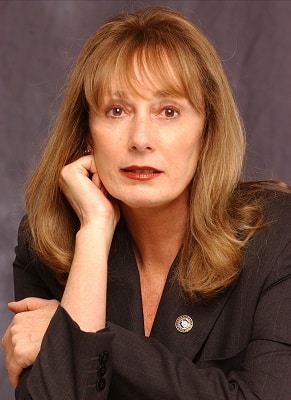 A bestselling novelist in spy fiction and spy thrillers, Gayle Lynds is an award-winning author with books published in twenty countries. Born in Nebraska, Lynds was raised in Iowa, graduated from the University of Iowa with a degree in journalism, and now lives in Maine where she is a full-time novelist.
Q. A CBS News segment reported that all your books start with an unbreakable rule: the conspiracy at the center needs to be believable. Have you ever written something so believable it just might be true?
Gayle: Several of my novels have had predictive qualities, but that seems to go with the territory of writing fiction about politics and world affairs. If one is paying attention, how can one not look into the future and sometimes see what's going to happen?
For instance, in The Hades Factor I created a disease called the Acute Respiratory Distress Syndrome (ARDS) three years before the Severe Acute Respiratory Syndrome (SARS) epidemic broke out in China and then spread globally. By the way, the symptoms of both – cold, cough, fever, and respiratory problems – are also true of Covid-19.
And then in Mesmerized, I not only predicted that there was a top mole in the FBI whose dirty work explained several of our agents being mysteriously burned, but I also got his first name right: Robert. The real-life mole was uncovered shortly after Mesmerized came out in 2001. His name was Robert Hanssen, considered by many to be the most damaging traitor in modern intelligence history.
Q. What country or geopolitical situation is the most fun for an espionage author to write about right now?
Gayle: Because the world is in such political upheaval, there are endless choices, but my favorite these days is Russia. The Kremlin never really changes in the sense that the United States remains its number one target. What's fun to think about is all of the news stories about how Russia continually undermines and manipulates our culture while stealing political and technical secrets. In a way, many of us feel as if we're the underdog, and the news often reflects that.
I don't believe it. A great story is the other side of the reality – what our intelligence agencies are doing in response, not just in retaliation but to stay ahead of the game, ferreting out secrets, recruiting agents, using our superior tech skills, and impacting the economy and culture. There's a reason espionage is considered the second oldest profession. It never stops. And part of our success is that we don't talk about it.
Q. In a Sisters in Crime article, Hank Phillippi Ryan wrote that you single-handedly broke the gender barrier in spy novels. What do you think your career has meant not just to all readers (and your many fans), but to women in particular?
Gayle: Isn't Hank great? I enjoy her and her books a lot. Back when I began, I was told women weren't good enough writers to create spy thrillers. In fact, my first spy novel was rejected because I'm female. I hadn't realized I wasn't supposed to write them. Isn't it crazy? The thing was, I loved to read them. My girl friends and guy friends loved them, too. Wasn't the point a terrific book – not who wrote it?
I still believe that, but I also know that even today women struggle to publish in the field and, when they do break through, they often don't get the marketing and publicity support, or the reviews, their work deserves. I'm terribly moved when anyone thanks me for cracking this dumb sound barrier. I'm also heartened that women are publishing, and that we're seeing female actors in demanding action roles that didn't exist back in the beginning of my career. There's progress!
Q. You were chosen among twenty-two of the world's most popular thriller writers to contribute to the anthology, MatchUp (faced off against David Morrell, creator of John Rambo.) Is this a good example of the collaboration of the thriller community?
Gayle: It sure is. As your readers may know, back in 2004 David Morrell and I founded ITW – International Thriller Writers. In those days, thriller writers were outliers – seldom were there thriller panels at readers' conventions and even less frequently were thrillers recognized with award nominations. Although thriller writers tend to be loners, we also really enjoy each other's company. It seemed time to band together for collegiality and to let folks know we were proud of our work.
But how does one finance an organization? I came up with the idea for an anthology of original thriller short stories, which became Thriller: Stories To Keep You Up All Night. To the best of my knowledge, this is the first anthology in which all of the authors donated their stories, in other words, they took no pay for their work. I call that collaborative.
Ever since then, our authors have donated their stories to ITW collections. The most recent is MatchUp, which pits a favorite main character from each author against another author's main character. Hijinks and action ensue! David had never collaborated on a story before. We're dear friends, and had a terrific time coming up with the story and the writing it.
Q. What are you working on now?
Gayle: Remember my interest in Russia. My new one takes place largely in Moscow, where a dissident scientist and his cab-driving daughter hook up with an American undercover agent. Why? They have a secret, and they need to get out. Fast!
The USA Today Bestselling Author on AMONG THE INNOCENT and more
read more