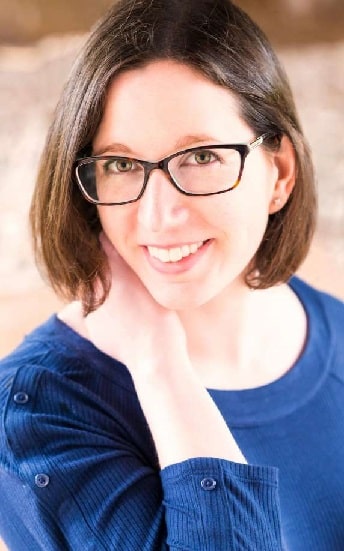 Megan Collins is the author of critically-acclaimed thrillers The Winter Sister and Behind the Red Door from Atria Books. A Pushcart Prize and two-time Best of the Net nominee, her work has appeared in many print and online journals, including Compose, Linebreak, Off the Coast, Spillway, Tinderbox Poetry Journal, and Rattle. She's currently the managing editor of 3Elements Review.
Q. The Winter Sister and Behind the Red Door have received enormous praise from Booklist, Kirkus, and fellow thriller authors, especially for the atmosphere and the character of Fern Douglas. Where do you draw inspiration for your characters and setting? 
Megan: I'm very inspired by small towns. Both of my books so far are set in close-knit communities that, in some ways, put pressure on the narrators. For Behind the Red Door in particular, I wanted a town that feels a little claustrophobic, and that's why as soon as Fern enters it, she loses cell phone reception, immediately cutting her off from the outside world and containing her in this space where she has to confront a lot of childhood trauma that she's only just beginning to realize she had. In terms of character inspiration, I'm inspired by big emotional journeys, by characters being so pushed outside their comfort zones that they're forced to grow in ways that are often uncomfortable at first, but ultimately meaningful and productive.
Q. Besides writing dark thrillers, you've published a fair amount of poetry. What do the two mediums have to offer each other and to you?
Megan: I would not be the fiction writer I am without my background in poetry, and I wouldn't be the poet I am without my background in storytelling. Whether I'm writing a book or a poem, I'm always striving to cast a spell with words, to pull readers into a particular moment and make them feel something. Poetry has helped me to sharpen my novels' rhythm and atmospheric imagery, which is often so central to thrillers. At the same time, writing suspense has given me a stronger understanding of pacing, which is essential to poetry, as you are always making decisions about the shape of a poem and how breaking a line here, or adding a stanza there, will allow the emotions to resonate more powerfully.
Q. You can take any book up to the mountains for a fireside cabin getaway this winter season. What do you bring?
Megan: Night Film by Marisha Pessl. It's one of those books you read breathlessly, without even stopping to eat or sleep. It's immersive and mysterious and relentlessly suspenseful.
Q. How have your teaching and editorial work on 3Elements Review affected your writing?
Megan: I'm continually inspired by both my students and the writers who submit to us at 3Elements. It's always an awe-inspiring experience, witnessing someone's bravery on the page. I think one of the best things a writer can do for themselves is read, read, read, so as a creative writing teacher and an editor, I'm constantly reading other peoples' work and, as such, I'm constantly finding new lines and poems and stories that dazzle and inspire me.
Q. Behind the Red Door beat out Vince Flynn's Total Power in Atria Books' Roomba Rodeo. How would you gloat to Mr. Flynn if he were in the room?
Megan: No gloating. It's an honor to be on the same Roomba as him. (Though Behind the Red Door clearly has superior Roomba-riding skills.)
Q. What are you working on next?
Megan: I'm currently revising my next book, another thriller with a haunting atmosphere, dark secrets, and twisted family dynamics. Stay tuned!
The cozy mystery author on CHAPTER AND CURSE and more
read more