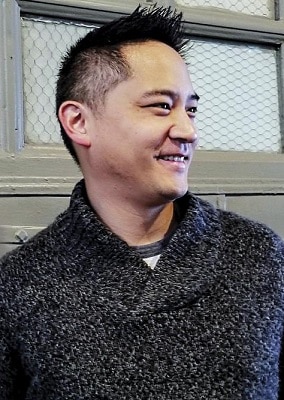 Sci-fi thriller (among other genres) author, Mike Chen is a self-described geek who has made his own indelible mark on geek culture. His books can be hard to pin down—as they range from time-travel adventures to superhero epics to post-apocalyptic thrillers—but they all center around the human element despite their scale.
Q. Your books don't sit neatly in a genre. There are elements of sci-fi, post-apocalyptic thriller, speculative, espionage thriller, and lots more. What drew you to write crossovers? 
Mike: For me, it always starts with the characters first. Once that's established, the setting can move laterally across genre conventions and that stems from my love of many genres/sub-genres as well as a fear of being pigeonholed into "the time-travel guy" or something along those lines. A strong character story can be dressed up in many different ways, so it's fun to have the flexibility to play in many genres that I'm a fan of, but still keep the core as a character story. That also invites the possibility of a crossover audience, which is obviously beneficial from a commercial perspective. So it's not necessarily a direct intention, but I think a natural extension from looking at character over genre. 
Q. Which speculative thriller and sci-fi thriller authors inspired you? Where else do you draw inspiration?
Mike: I'm not as well read as I should be, and a lot of that is because I am constantly against deadlines, though audiobooks have helped. Some of my favorite books in recent years are The Ten Thousand Doors Of January by Alix E. Harrow, An Unkindness of Magicians by Kat Howard, The Book Of M by Peng Shepherd, Rowenna Miller's Unraveled Kingdom trilogy, and Fonda Lee's Greenbone Saga. All of those have blended genres and pushed boundaries which inspire the way I view things.
I also have two very different sources of inspiration that I keep going back to: Nick Hornby, who is always a masterclass in voice and character work, and Matthew Stover's novelization of Star Wars: Revenge of the Sith, which blends literary fiction sensibilities into traditional space opera. 
Q. For A Beginning At The End you included a playlist of songs broken into opening credits, thematic songs, in-character music preferences, and closing credits. How does music enhance the reading experience?
Mike: I've always been a music person. I started playing piano when I was 4, but I really discovered a deep love of music when I transitioned to guitar and started listening to indie rock and punk in my teens. To me, music is very much about connection and feeling, both lyrically and melodically. When I read, I need it silent, but when I write, I find that identifying songs that embody the feelings of characters really helps set the mood to get in their headspace. Someone had recently suggested using a song to work with specific scenes in terms of tone and pace, and while I haven't tried that yet, it does make a lot of sense to me.
Q. We Could Be Heroes is a character-focused superhero adventure with core thriller elements. How did you keep the reader's heartbeat pounding given the hero and the villain became friends?
Mike: I loved being able to turn a traditional hero vs. villain trope on its side. The tension, then, isn't about whether or not they're going to fight to the death, but how these two very different people can work together to accomplish a goal. The stakes are thus much lower than, say, The Avengers, but because of that, I think it's much more accessible to crossover audiences as mentioned above. But I did know that ultimately, there's gotta be an external force working against this duo, so there is a 3rd party that gets introduced about halfway through the book.
Q. What are you working on next?
Mike. I have a story in the Star Wars anthology From A Certain Point Of View: The Empire Strikes Back where I get to dive into the mind of Emperor Palpatine. That comes out in November. Then in January, We Could Be Heroes comes out. After that, I'm working on my fourth book, which looks at how a family splits apart when the son gets abducted by aliens, only for him to return fifteen years later. That should come out in early 2022. I also have a story in an upcoming anthology called Don't Touch That, which are parenting stories from a sci-fi/fantasy perspective.
The NYT bestselling author on The Long March Home and more
read more