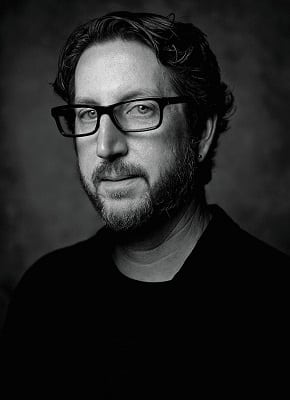 Paul Tremblay is the Bram Stoker award-winning author of The Cabin at the End of the World and many others, including Disappearance at Devil's Rock, A Head Full of Ghosts, The Little Sleep, No Sleep Till Wonderland, and  Growing Things and Other Stories. 
Q. Survivor Song—just out this summer—has an on-the-nose horror/post-apocalyptic/medical-thriller vibe. Is it just coincidence that it was released in the middle of a pandemic?
Paul: Total coincidence. I came up with the idea of the novel in July 2018 and turned in my final copyedits to my publisher in early November 2019. The main idea was to root a zombie or zombie adjacent narrative in realism (ie. this could really happen!), so I revved up the rabies virus a bit and set it loose in Massachusetts. For research regarding what a local hospital's response to an epidemic might look like, I leaned on my sister, who is a nurse at one of the largest hospital's in Boston. Her experience with a brief (in the United States) brush of prepping for a possible Ebola outbreak in 2014 was put into my book, and I think that's one of the main reasons why this novel feels so 'now.' 
Q. Many of your books fall firmly in the horror space, while also incorporating major suspense and thriller elements. Where do you draw the line? What do your readers enjoy about your particular brand of fiction?
Paul: My editor and publisher give me a lot of leeway in terms of what it is I write. As long as it's dark/horrific and (hopefully) intense, they're happy. I honestly don't think in terms of genre beyond it being horror because for me horror is an expansive genre. Also, horror/suspense/crime/noir are all closely related cousins. Take any one of those genres and tweak a few things here and there and all of a sudden you're in another genre. They're all about doomed characters, or at least, characters that are in big trouble.
I think my readers enjoy the emotional experience of my novels and stories. I'm definitely a character first kind of writer and reader. Yeah, exciting plot/story is great, but the story doesn't really move you without being invested in realist, empathic characters.
Q. You've written at least 45 short stories in various genres. What do you think your readers get out of your shorter prose that they can't get out of your novels?
Paul: With my shorter fiction I tend to experiment with the narrative a bit more, but still (hopefully) tell a coherent story. My story "Nineteen Snapshots of Dennisport" for example (which originally appeared in Cape Cod Noir and reprinted in my collection Growing Things), is a crime/revenge story, but one told through the description of nineteen vacation photos. The narrative technique becomes part of the story, and really the only way it could be told, and hopefully it builds to an emotional response for the reader. The response might be more of quick jolt compared to the more pervasive affect I go for in a novel, but both kinds of affects can linger if done well.
Q. I can't let you go without talking about The Cabin At The End Of The World, which won a Bram Stoker Award in 2019. How has the success of that book changed the trajectory of your career? Has it impacted your style or the types of books you want to write?
Paul: I think the biggest change to my career was Stephen King tweeting about a prior novel, A Head Full of Ghosts. I remain eternally thankful and in his debt. His words of praise for CABIN helped quite a bit as well.
It's easier said than done, but I try not to let any one book impact the ones that come after in terms of reader expectations. It's hard enough writing a good book without the pressure of imagining what readers want. Maybe that sounds strange, but I think a much healthier head space to be in is to write books that you the author want to read and trust there are enough readers out there like you who will want to read them.
 Q. What are you working on now?
Paul: I'm working on a novel called The Pallbearers' Club. It's being written as a faux-memoir of a quirky character named Art. When he was in high school in the late 1980s, he started the club with the idea that the members would volunteer at a local funeral home to attend services for homeless or elderly who don't have many living relatives left. A strange woman later joins the club and things get mysterious, strange, and possibly supernatural from there.
The Edgar award winning author on picket lines, celebrations, and more.
read more