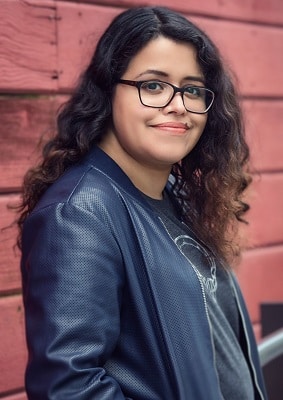 Silvia Moreno-Garcia is the bestselling author of Mexican Gothic, Gods of Jade and Shadow, Certain Dark Things, Untamed Shore, and more. She has also edited several anthologies, including the World Fantasy Award-winning She Walks in Shadows (a.k.a. Cthulhu's Daughters).
Q. First of all, congratulations. Mexican Gothic seems to be on everyone's best-of lists this year (including winner of the 2020 Goodreads reader's choice for horror). How has the success of the book affected you?
Silvia: Well, it's made some things easier, such as securing attention from certain outlets, and attracted readers who wouldn't have bumped into me before. But the basics remain the same. I work a full-time day job, I write at nights, and I tend to be a fairly productive and busy writer. I think at the beginning of the year I was honestly just hoping this wouldn't be the end of my career because in the Spring of 2020 COVID-19 created a whole chain of uncertainties. Publishers were pushing their dates left and right, bookstores were closing, shows and conventions were being cancelled. Every time I write a book I think to myself that if this is the last, I've had a good run. In this case, Mexican Gothic was my second and last book under contract with Del Rey and we didn't know if they would make an offer on a new novel. So I told myself that if this was the end of the line at least I wrote a few things. 
Q. For those who haven't gotten around to reading Mexican Gothic yet, what are they in for?
Silvia: Mexican Gothic has a classic Gothic set up: a young woman, in this case a socialite from Mexico City, travels to a remote location where spooky things may or may not be afoot. The town where this takes places, although fictional, is inspired by a real place in Mexico: Real del Monte. And yes, it was mined by the British in the 19th century and it does have its very own English Cemetery, like in the book. The Guardian called it a cross between Lovecraft and the Brontes, and I really do like that description.
Q. Besides writing—broadly—in the gothic/horror genre, you're also an award-winning fantasy writer, with books that sweep across genres. What does genre mean to you?
Silvia: Every genre has a history and aesthetic and it's nice to explore both of those, but I don't feel beholden to one or the other. After all, if you look at something like Frankenstein, is that science fiction or horror or Gothic fiction? It's all three. People who worry about the carrots touching the peas, or one genre touching another, are bizarre.
Q. You're a celebrated columnist for The Washington Post and book reviewer for NPR. How has the reading you do in those capacities affect your writing? And what are some of the great books you're recommended recently?
Silvia: I tend to think of reading and editing as things that happen with a different part of my brain than the writing part. As for recommendations, I thought there were many good horror books out in 2020 and I enjoyed The Only Good Indians and Tender is the Flesh. I was glad to see the reissue of Koja's The Cipher in paperback. Entangled Life: How Fungi Make Our Worlds, Change Our Minds & Shape Our Futures was a lovely book. I am a big fan of mushrooms. I'm supposed to write an introduction for S. A. Cosby's Blacktop Wasteland, which was one of the highlights of the year on the crime side of things. As far as historicals, I thought Conjure Women was smart and engrossing. And my friend Lavie Tidhar came out with a cool Arthurian retelling, By Force Alone. I called it Tarantino meets the Knights of the Round Table. More people should read it!
Q. What are you working on now?
Silvia: Going through the copy-edits of my next novel, Velvet Was the Night, which will be out in the summer of 2021. It's a noir set in 1971 against the background of student and government clashes. I will also have two reissues in 2021: my vampire novel Certain Dark Things and a romantic novel of manners called The Beautiful Ones. They both went out of print quickly and are coming back in paperback. And I have a sword and sorcery novella that will come out in the summer.
The military thriller authors on SONS OF VALOR book 3
read more