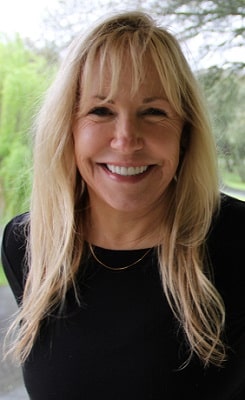 T.R. Ragan (Theresa Ragan) is a New York Times, USA Today, and Wall Street Journal Bestselling author. Since beginning her publishing journey in 2011, she's sold over three million books.
Q. No Going Back is coming next year. What can readers expect in the third installment of the Sawyer Brooks series?
Theresa: No Going Back, the last book in the Sawyer Brooks series, exposes the identities of a group of female vigilantes dubbed The Black Wigs. These women are relentless about carrying out their plans, but they've overlooked one small detail: Sawyer Brooks, a persistent and very determined crime reporter. As in many of my thrillers, there is a lot going on in this installment. Copycat vigilantes complicate Sawyer's job, but she refuses to stop searching for the truth, even when it's clear that the truth could destroy those she loves.
Q. You're an avid traveler. How do your trips affect the stories you tell? And what has been one of the more extreme things that you've done or seen while traveling?
Theresa: For me, writing novels was born from my extreme curiosity and thirst for knowledge. Discovering new places and learning about other cultures helps to quench that thirst. I have seen some amazing sights, but I'll never forget my adventure at Chitwan National Park in Nepal where we were told, for our safety, not to wear white because certain colors attract wild animals. My nephew, who likes to live dangerously, didn't follow their instructions and as we followed our guides down a path rich with flora and fauna, we suddenly felt the dirt beneath our feet begin to vibrate. An elephant was close by. One of the guides left us to peek around the bend and see what was going on. He immediately began gesturing his arms wildly in the air, telling us to hide in the brush off the beaten path.
A few days before we arrived, two locals had been killed by a wild elephant. We ran from the trail and then held perfectly still. The elephant appeared, and he was enormous. Before passing by, the elephant stopped and looked our way, its trunk swaying. The sound he made before charging was terrifying. He broke through rows of spindly trees to get to us. I froze. Someone grabbed me. We ran through thick brush and foliage for what seemed like an eternity. I could hear the thundering steps of the elephant behind me. The guides had disappeared. I thought I was a goner. By the time my sister and found a way out of the brush by the river, I was scraped and bruised and grateful to be alive. I'll never forget it. Whenever I write a terrifying scene, I simply conjure up that day and the terror I felt as I ran for my life.
Q. Faith McMann and Lizzy Gardner are both survivors, fighters, and all-around strong women. Why do you think it's important for the voices of these women to be heard, even if they're fictional?
Theresa: Lizzy Gardner, Faith McMann, Jessie Cole, and Sawyer Brooks—the protagonists in my novels—have all been traumatized in some way. Just like the women I know in real life, my characters don't realize how strong they are until they are faced with insurmountable odds. It's extremely important to me that my fictional female characters be strong and resilient. I've spent a lifetime surrounded by women who have had to fight for equality, for respect, and to be heard. It's crazy to think that women have only been voting for 100 years.
My dad left my mom and five daughters to fend for ourselves when we were young. My mom hadn't worked in over seventeen years, so we all chipped in and found jobs and in the end, it only made us stronger. I love writing about badass women because I want to inspire women everywhere to stand up for themselves and to know that they have the power to conquer any and all obstacles in their way. I'm not saying it will be easy, but nobody can tell me it can't be done.
Q. You've said elsewhere that The Killing Hour by Lisa Gardner is your favorite book. What do you love about it?
Theresa: The Killing Hour by Lisa Gardner, like many of her novels, is a gripping and fast-paced read. Gardner doesn't waste words. She jumps right in and has me sitting at the edge of my seat from beginning to end. This story includes a rookie FBI agent in training who must race against the clock to find a clever and ruthless killer before he strikes again. What's not to love?
The USA Today Bestselling Author on AMONG THE INNOCENT and more
read more