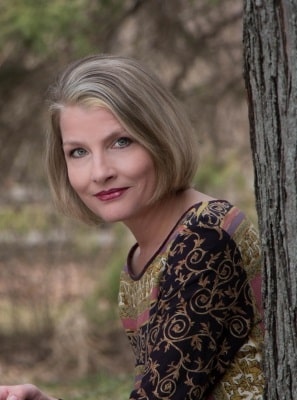 Traci Lambrecht
(P.J. Tracy)
PJ Tracy was the pseudonym of mother-daughter writing duo P.J. and Traci Lambrecht. While PJ is no longer with us, Traci continues to produce bestselling crime thrillers, including Deep Into the Dark which comes on January 12, 2021.
Q. You and your mother published Monkeewrench 17 years ago. How has your writing changed in that time?
Traci: Seventeen years! It's shocking to see that in print.
Writing is a constantly evolving process – you're always exploring, learning, growing, and refining. It also reflects the perspective and psychological state of the writer. When PJ's health began to decline, I think our writing became a little darker and more introspective. When she passed and I carried on solo, my work became more emotional. You work through things when you write. It's your internal therapist.
Q. You're a Minnesota native who has been writing Minneapolis/St. Paul as a setting since 2003. Do you ever learn new things about the Twin Cities that surprise you?
Traci: I'm always discovering new things about the Twin Cities. In recent years, I've been fascinated by the role of bootleggers and mobsters here during Prohibition. This was not just a place of illegal transit and commerce, it was a summer getaway for the most famous heavies. During my research, I found out that a friend's mother worked as a nanny and maid for the gangster Leon Gleckman, known as the Al Capone of St. Paul. She was only fourteen at the time, and had no idea who he was, but when she found a gun beneath a pillow while making a bed, she quit a week later.
We also have deep Scandinavian roots and traditions here, and they're very much alive in the community. Not to denigrate the rich cultural heritage of our dear and noble citizens of Scandinavian descent, but the lutefisk thing is fairly outlandish and I don't believe I've ever written about it in depth. In all these years, I haven't found anybody who actually likes it. When I've probed advocates of this 'delicacy' (commonly known as fish Jell-O – eew!), they confess they only eat it because it reminds them of Christmas with their grandparents. And I guess you can choke down anything if you douse it with enough melted butter.
Q. What have you read recently that you enjoyed?
Traci: Jane Eyre, which I'd never read before! I loved it. And it's about as far from murder as you can get. I needed some balance in my life.
Q. What's the scariest thing or most interesting you've learned about serial killers in your years of writing?
Traci: I think the scariest thing is that they exist. It's really incomprehensible that there are human beings completely absent of emotion and morality. Some psychologists debate whether psychopaths and sociopaths should be differentiated at all. For those who do, psychopathy describes a hereditary anti-social disorder; sociopathy describes behaviors that are the result of environment. Nature versus nurture. However, not all psychopaths or sociopaths become serial killers; and not all serial killers are psychopaths or sociopaths. Just a little confusing.
Q. Deep into the Dark comes out January 12th. How has starting a new series been different than working on the Monkeewrench books?
Traci: It was exhilarating to write about an entirely different world populated by fresh characters. I felt like a painter with a palette of new colors. A lot of things happened with the characters that I didn't expect because I was just getting to know them. There was a wonderful element of unpredictability during the process. And of course, PJ was enjoying it right along with me. She is and always will be with me when I write.
Q. What are you working on now?
Traci: The second novel in the Deep into the Dark series. Almost finished!
More Crime Thriller Author Interviews
The NYT bestselling crime thriller author on GIRL, FORGOTTEN and more
read more