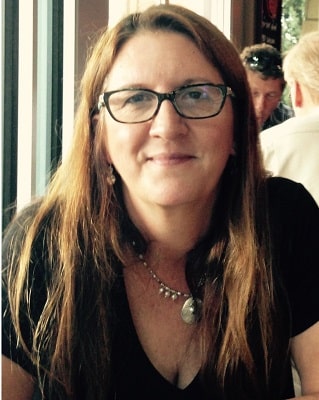 Wendy Webb's novels (Halcyon Crane, The Fate of Mercy Alban, The Vanishing, The End of Temperance Dare, Daughters of the Lake) are gothic suspense mysteries about long-buried family secrets, set in big, old haunted houses on the Great Lakes. Her latest, The Haunting of Brynn Wilder, hit #1 on the Kindle bestseller list in November.
Q. The Haunting of Brynn Wilder came out in November to wide acclaim. For those who haven't read it, what's it about?
Wendy: The short answer: It's about love. All kinds of it.
The longer answer: It's about a woman, Brynn, who has just had a terrible loss. At the urging of her friend, Kate, who readers will remember from Daughters of the Lake, Brynn decides to spend the summer in Wharton, the charming (fictional) small town on Lake Superior where I've set four of my books. Staying in a 150-year-old boarding house filled with spirits floating through the hallways, Brynn meets a wonderful cast of characters who become like family and help her through this time of transition. There's Jason and Gil, a married couple who take in Jason's former wife, Alice, who is suffering from early-onset Alzheimer's disease and inexplicably knows things she shouldn't. Brynn also meets the devilishly handsome Dominic, who has a strange, hidden past.
Q. You've said that some of the plot was taken from real life. Can you talk more about that?
Wendy: Yes, that's right, much of the inspiration was taken from my own life, losing my own mother and, a few months later, finding a mysterious man who brought laughter back into my world after that dark time. I dedicated the book to him. Also, the Jason, Gil and Alice characters are based on my real-life neighbors, a gay couple who took in the former wife of "Jason" when she was struck with early-onset Alzheimer's. I'm talking mid-sixties. Alzheimer's is cruel at any age but she was way, way too young. She and the Jason character had been divorced for a decade or more. But he would not hear of her going to a nursing home. So he and his partner opened their home to her, and she lived there for the last summer of her life. It was the most beautiful act of love I'd ever seen, and I still can't talk about it without crying. I got their blessing before writing about it, but they hadn't read the book before it came out. I got a call in November from "Jason." They were vacationing in Mexico and he had taken my book to read. He called me from the beach bawling, thanking me for the beautiful story I crafted with their inspiration. We cried together. Okay, yup, I'm crying now.
Q. The setting for your books is the American Great Lakes region. What about this place makes it such a haunting space for suspense novels?
Wendy: The Great Lakes, region specifically Lake Superior, is steeped in legend and lore. The ancient peoples who lived here thought Lake Superior was a deity who could be benevolent and kind, but at times vengeful and cruel. The people who live near the lake now, myself included, don't doubt that for a minute. Being near Lake Superior for even a short time will convince you of its power. It is the perfect, windswept, rocky, eerie place to set novels like mine. There's something about the fierce beauty of the region that says we mortals are not in control.
Q. There's an argument to be made that you're the reigning queen of gothic suspense. What does the gothic suspense genre offer readers?
Wendy: I love gothic suspense. For me, it has a little of everything. It's spine tingling and can veer into really scary territory, but without any gore, which I hate. It's old houses with mysterious pasts, which I can't get enough of. It's family mysteries and secrets coming to light at unfortunate times. Zing! It's a little bit of romance, without going over the top. It can be psychological suspense, which some of my books are. I adore the genre. I'm so lucky to be able to spend my life writing it.
Q. How has your work in journalism affected your writing?
Wendy: Oh, excellent question! There are both positives and negatives to being a career journalist and then starting to write novels. First, because I've been a journalist, I'm used to writing thousands of words every day. Writing a book wasn't that daunting. But the hard part was the type of writing. As a journalist, you tell a story. But as a novelist, you must show it. Show, don't tell. You hear it over and over as a novelist. It took me a long time to really get it, because I had been so conditioned to "telling." Here's the trick. Envision every scene as though you're the director of a movie. In a movie, a character wouldn't say, "Gee, I'm angry!" Instead, he might stomp out of the room without saying a word, and you'd know he was angry. So, that's what I try to do.
Q. What are you working on now?
Wendy: My next book is with my editors right now! It's also set in the Wharton universe, on the island just offshore. It's the story of a woman who inherits her ancestral family home… and all of the lore and legend that goes with it. It was based on the idea that most every culture on earth has ancient lore and legends and folktales. What if they were real? It's a darker story than The Haunting of Brynn Wilder, but has a lot of fun in it, too.
The USA Today Bestselling Author on AMONG THE INNOCENT and more
read more