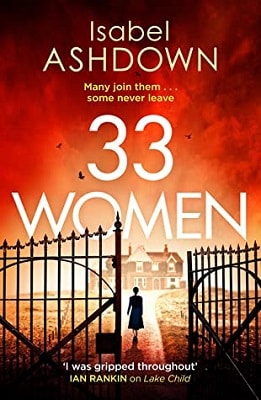 33 Women is another beautifully written and atmospheric thriller from the pen of Isabel Ashdown. The novel explores the power of female friendship but also the darkness that can ensue. As usual for an Ashdown novel, we meet a group of eclectic and highly engaging characters, all of whom intrigue the reader for varying reasons. The story is told in past and present, with plenty of mystery but also thought-provoking elements that keep you turning pages.
In the past, we have one woman's vision of a place of refuge, an escape from the world, for women who need peace and a new sense of where they fit in the world. Thirty-three women. A powerful number. And a powerful vision of refuge. But underneath the dream, there is also darkness.
In the present, a family comes together to clear their estranged mother's house after her death, and remember the sister they lost, seemingly to her violent ex. These two worlds are about to intersect in emotionally resonant ways.
The plotting is tight and there is a taut feeling throughout the narrative. Isabel Ashdown never falters in her ability to keep the reader addicted to the story unfolding on the page, while presenting a setting that comes alive. Over the course of the story, the unexpected frequently occurs, with twists and turns that any reader of crime fiction looks for. At the same time, the realism and actuality of these women and their story shines through. It's a joy to read from first page to last.
The bottom line: These days I do look for quality of writing above all else, and so far this author has never disappointed. Layered characters, a clever and involving story, and a sense of unpredictability. 33 Women has all of these elements and comes highly recommended.
When his wife dies, he and his thirteen-year-old daughter are forced to move
read more