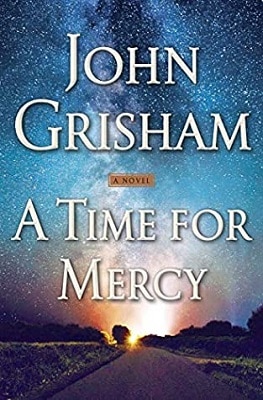 'Should a sixteen-year-old boy be handed death penalty for murder, without consideration for his age, his background and the reasons that led him to the crime?'
This uncomfortable question is at the core of John Grisham's A Time for Mercy and the answer, in the minds of rural Mississippi's citizens of circa 1990, is a resounding 'Yes!', especially when the deceased is a well-liked Sheriff's Deputy with whom the killer—and his mother and sister—have been living for quite some time. In that time and place, whoever tries to defend the cop-killer in court will instantly become the enemy of the upright townsfolk including the deceased's law enforcement comrades, and the unenviable task falls in the hands of Jake Brigance.
Jake, the young lawyer who is both admired and resented by the populace for successfully defending Carl Lee Hailey—the black man who had killed two white men in cold blood—in a sensational trial five years ago, is forced by Circuit Judge Omar Noose into defending the boy. The explosive case portends financial and societal ruin for Jake—with peanuts for fees and a poor defendant's family looking for monetary aid from its lawyer—in addition to antagonising most of his prospective clients in the town. The case could also jeopardise Jake's chances of winning a high-value lawsuit against a railroad company and thereby earning a much-needed boost to his finances. Now, in order to save his client's life—and his own carrier—Jake has to expend every ounce of his prodigious talent and exploit even the minutest of legal loopholes.
John Grisham is a renowned master of legal thrillers with a knack for presenting complex legal matters in simple words that keep the reader engaged all along. His return to the setting of one of his most famous novels, A Time to Kill featuring the Hailey trial, brings with it a lot of expectations and A Time for Mercy satisfies those for the most part. Five years after the Hailey trial, most residents of the fictional town of Clanton, Mississippi are still in a conservative frame of mind, eager to mete out swift and lethal punishment to anybody who defies the status quo. But, there are others with broader minds too, who back Jake and the unfortunate defendant's family.
The character of Jake Brigance—with a strong sense of duty and justice, but with the regular human fallibilities—is endearing as ever. Other strong characters from the previous volumes make their appearance here, particularly Lucien Wilbanks, the debarred maverick who is Brigance's staunchest supporter as well as his harshest critic. In fact, I like Lucien's character so much that I would love it if Grisham goes back a decade or so in time and writes about Lucien's exploits as a separate series.
The story itself is not very fresh or complicated, with the hero fighting for the underdog and braving the public's ire. But Grisham has plotted it so well that the pages keep turning and the reader is drawn deeper and deeper into it. Even mundane matters read amusingly when written by Grisham. Expectedly, there is a lot of intriguing courtroom drama and it's entertaining to watch judge Noose control the proceedings on and off the court. The ending, after all the leisurely build-up, feels a bit rushed, and a bit too convenient. I would have liked a bit more detailing on the legal side of the affairs at the end.
However, I have no hesitation in stating that I thoroughly enjoyed A Time for Mercy for its engaging plot, interesting characters and the easy prose of Grisham, and would recommend it to all readers who like legal dramas.