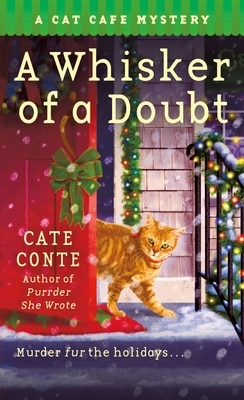 Christmas, cats, and murder: what more could one want from a holiday-themed cozy. Feline rescuer and amateur sleuth Maddie James is back in an enjoyable whodunit, the fourth installment of the Cat Cafe Mystery series.
As Daybreak Island prepares for the Christmas holiday, Maddie James, the owner of JJ's House of Purrs Cat Cafe is dedicated to saving the feral cat colony living in the woods adjacent to the wealthy Sea Spray Lane community. Sadly, some of the residents of the community are having a hard time getting into the spirit of the season. The volunteers who give their time to feed and care for the cat colony are receiving a less than jolly welcome in the community. Matter of fact, some residents have accused the volunteers of crimes and want to see the cats removed, by any means necessary.
On the evening of one of Maddie's trips to feed, she discovers the dead body of a man married to one of the most anti-cat residents of the community. When the local, often controversial, animal control officer becomes the prime suspect, Maddie sets out to help her friend and to find the real murderer, all while dealing with a broken heart of her own from being jilted. All of Maddie's digging leads to uncovering the many hidden secrets of the residents within the Sea Spray Lane community and a long list of suspects.
Interesting and delightful, Cate Conte develops characters that are easy to connect with and to have feelings for: positively or negatively. The mark of a great writer, regardless of genre, is that they can create a story and develop characters that make readers care, is enjoyable, and that draws forth feelings.
Readers will appreciate that the book starts out present day, but then takes a slight step back in time to tell how the facts of the past lead to the present. The plot is one that many people care about and readers are able to quickly develop feelings about all of the characters involved.
I found Maddie and her love life to be still a bit mysterious and not fully actualize for me. However, I really connected to the strength of her passion to do good, to develop her cat cafe to help these animals find their forever homes. I also enjoyed the extreme optimism displayed by her mother in the face of the challenges of saving the feral cat colony and remaining respected in the community.
A Whisker of a Doubt is a well-written cozy mystery that brings awareness to a real issue many communities actually deal with: feral cats colonies and how to properly care for and save the cats. Conte puts forth a super entertaining story with an engaging plot, eccentric characters, and fun banter.
A killer on the loose and the lodge's reputation hanging in the balance
read more