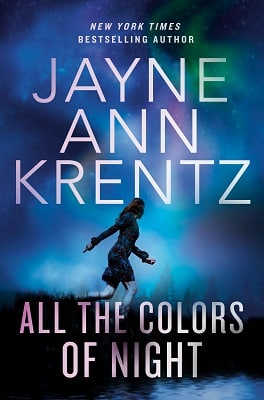 All the Colors of the Night
All the Colors of the Night by Jayne Ann Krentz is the second book in the Fogg Lake paranormal romantic suspense series and is set contemporarily in Washington State and Las Vegas, Nevada.
Sierra Raines was falsely accused of a con while working for a big auction house. Now, she functions as a go-between by finding and transporting objects with a psychic provenance.
North Chastain has a paranormal ability to track down dangerous psychic criminals. When North's father ends up in a coma, North hires Sierra to help him track down an artifact that might save his father.
What caused the coma? Does an artifact exist that can save him? Will North and Sierra be able to work together? What will they find when they investigate the dark side of the paranormal world?
Sierra and North are fantastic, but flawed protagonists. Both are smart and have pasts that haunt them, but are multidimensional enough to change and grow as the novel progresses. This is a case where the protagonists balance each other well.
The world-building is clear and intricate; smoothly adding paranormal aspects to contemporary times. The plot is complex with lots of twists and turns, and high stakes. The tension and action is enough to make this a true page turner.
All the Colors of the Night is a riveting story with relatable protagonists that the reader will cheer on as their escapades became ever more dangerous. Surprises along the way will keep the reader guessing. And several well-conceived themes run through the tale, including family relationships and history, ethics, romance, murder, trust, mental health, and more.
Overall, it was an exciting, suspenseful, fast-paced and unique story that I did not want to put down. The combination of action, suspense, danger, intrigue, chemistry, romance and more kept me fully engaged. The subplots tied together well, the main characters were strong, intelligent, and loyal, and the action had my heart racing. It does leave one subplot point unresolved which could be a thread in book three of the series.
The bottom line: If you enjoy thrilling paranormal romantic suspense novels, then I highly recommend you check out this series. There is enough background that All the Colors of the Night can be read as a standalone, but I recommend reading them in order.
Berkley Publishing Group provided a complimentary digital ARC of this novel via NetGalley in exchange for an honest review. Opinions are mine alone and are not biased in any way. Publication date is currently set for January 5, 2021.
She has no memory of what happened that night
read more