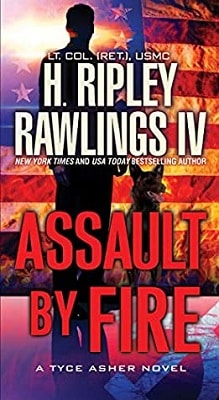 In this new novel by H. Ripley Rawlings, we are introduced to Tyce Asher, a Marine officer haunted by his past. While stateside, the unthinkable strikes the home front, and Tyce must lead his troops into battle once more. Will the burden he carries be too much to overcome? Can Tyce be the tactician and leader his men need?
This novel starts out with an excerpt from the "original Soviet War Plan," an unmistakable signal that this story means business! Rawlings further flexes his military knowhow through a deep familiarity with military tactics. Scenes explode off the page as if propelled by a detonator, and written in such a way that the reader can visualize what's happening, but not feel overwhelmed by the technicality.
America's troops are abroad, stationed mostly in endless wars in the Middle East. No one expects the Russians to attack, and certainly would never expect them to attack the U.S. mainland. But that's exactly what they do, a full-out assault that moves inland from the coast. And only Tyce and his rough assembly of veterans, shooters, civilians, and 2nd amendment patriots can keep America's biggest enemy from destroying the country they love.
The Bottom Line: This is a stellar introduction to Tyce Asher, and I can't wait to see what Rawlings will do with this character and series. I'm looking forward to book two. That cliffhanger is brutal!
They can no longer escape the danger that threatens to consume their lives
read more