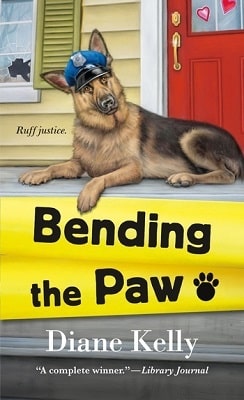 An excellent K-9 police procedural that works fine as a standalone. In this ninth Paw Enforcement mystery, Fort Worth police officer Megan Luz and her German shepherd K-9 partner, Brigit, help investigate a grisly crime. 
The story opens on Valentine's Day, as Megan 'says yes' to her firefighter boyfriend Seth. They'll soon have a blended family: Megan and her K-9 partner Brigit and Seth and his K-9 partner Blast. The betrothed couple hurries to share the news with Megan's family and her roommate Frankie. Inevitably, wedding chatter commences.
Amid the excitement, Megan gets a call from her mentor, Detective Audrey Jackson, who tells her she's at a crime scene. A grisly one. As a K-9 team with a special set of skills, Megan and Brigit are always on call. So they leave the engagement merriment and hustle to the crime scene, where they find a kitchen covered in blood. But no body.
Detective Jackson explains that a married couple, Shelby and Greg Olsen, live in the home. Shelby returned from dinner with coworkers expecting to find her husband, Greg, who had to work on Valentine's Day. Instead she walked in on the gruesome scene, with Greg and his car were missing.
Megan allows Brigit to sniff the blood in the kitchen, then orders her to trail. Brigit leads Megan to the empty garage where she sniffs at a blood puddle where the car trunk would have been, sniffs the area where the passenger door would have been, and signals the trail ends where a driver's door would have been had a vehicle occupied the space.  
Megan and Detective Jackson proceed to investigate. They interview witnesses, watch CCTV footage, analyze computers, examine phones, interpret data, and so on. A fertile area of inquiry seems to be cash proceeds from the movie theater where Greg worked—cash thieves may have planned to steal.
The story is told from three points of view: Megan, Brigit, and the Slasher who perpetrated the crime in the Olsen home. In Brigit's sections the K-9 thinks about using her sniffing skills to help Megan; the discomfort of wearing dog booties at crime scenes; how much she likes liver treats and belly rubs; how dogs are better at some things than humans; and other dog-related things. Brigit acquits herself well in the story, peeing on the shoes of Megan's nasty former partner and bringing down perps who try to get away.
The bottom line: This is a well-researched police procedural that would appeal to armchair sleuths who like to solve the crime along with the detectives.
A young girl goes missing and the trail leads to a remorseless killer
read more