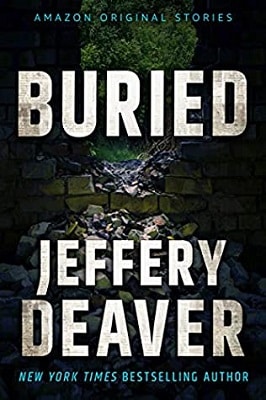 In a gripping thriller that pulls the reader into the middle of a handful of crimes, Jeffrey Deaver shows that his skills at short story writing are second to none. Intriguing in its delivery, Deaver is sure to leave the reader wanting more in one of the best pieces within the HUSH collection.
There are times when old journalism tricks, like listening to a police scanner, can produce the greatest scoops. That's the theory Edward 'Fitz' Fitzhugh uses when trying to stay relevant in today's digital world of newspapering. Fitz learns of a man whose been kidnapped, with a clue to his whereabouts. The alleged perpetrator calls himself The Gravedigger, an entity who struck a few weeks before in another state.
While Fitz is close to retirement, he's come to realise that his style is a dying art, where pounding the pavement and checking with sources has been replaced with quick Google searches and mass-market news stories that are splashed across the Internet. He clashes with one of the hires that will take the paper into its digital era, unsure if he will be able to withstand the pressure to conform and write about what sells to the attention-deficit reader. There's little time to lose, as Fitz tries to piece it all together in time for the editorial deadline.
Finding a witness to the apparent kidnapping, Fitz works the angle, while the clue to finding the victim proves fruitful. However, there is something more and Fitz cannot shake that flashing beacon in the back of his mind. Parallels between both kidnappings must exist, though nothing is as easy as it seems. When Fitz begins to peel back the truth, he becomes entangled in a web that could blow the Gravedigger case wide open. He'll have to convince someone to listen to his arguments, or face a less than glorious ride into the sunset of his journalistic retirement. Nothing worse than having an important story buried for none to see!
I have read a few pieces by Jeffrey Deaver before and enjoyed them all. Each has a chill factor and a quick pace that does not permit the reader to sit back and simply absorb. Clues are embedded throughout and the action never stops, which made this longer story flow with as much or greater ease than its other HUSH collection cousins.
Fitz proves to be a useful protagonist, particularly as he tries to shine in an era when everything is cut and paste, surrounded by digital advertisements. The old school of journalism may be on the out, but Fitz refuses to conform and finds himself eager to make a different the only way he can. Deaver offers little backstory for the man, though there is decent character development throughout, culminating in an unlikely twist that ties the plot together.
With little time to develop them, Deaver tosses a few key secondary characters into the mix, all of whom play their part. The various perspectives of the plot allow these personalities to shine, shedding light on a plot that has little time to lag. While not everyone fits together in a nice package, the characters do well complementing one another effectively and keep the reader wanting more.
I always find that an author shows their abilities when writing short stories, as there is little time for slow reveals or pointless plots. These pieces are raw and require movement from the get-go, something that Jeffrey Deaver has no issue doing. A strong plot is pushed along by a well-crafted narrative that keeps the reader wanting more. Clipped dialogue and characters who are placed in key spots offer that secondary momentum with so much going on. Deaver has chosen not only the chapter, but the multi-part style of writing, offering cliffhangers and short segments to keep the reader forging ahead. I enjoyed how things went in directions I would not have expected, yet still came together effectively. Makes me want to open my reading schedule and hunker down with some series work by Jeffrey Deaver to understand him a little more.
Kudos, Mr. Deaver, for another wonderful piece. I have often told myself that I should take the time to read more of your work. This is proof that my instincts are spot on!
She'll learn just how far she'll go for a good story
read more