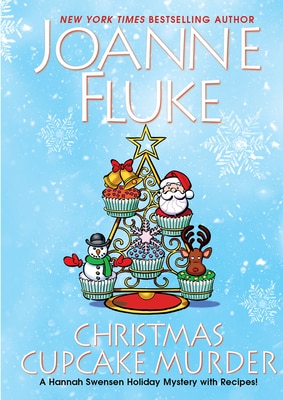 reviewed by Leslie Chatman
Hannah Swensen must solve the mystery involving an unidentified, injured man, found just steps away from her bakery.
Lake Eden's talented baker and endearing amateur sleuth, Hannah Swensen, is on the case in this engaging prequel to the long-running main series. 
Christmas is fast approaching. Hannah is hard at work in her kitchen creating innovative recipes to excite customers visiting The Cookie Jar during the holiday season, when she first encounters the mystery man. He politely knocks on the back door of her shop looking to do some light work for food. Of course Hannah obliges and starts to try to get to know the man. Soon after he goes on his way with a coffee, a sack of cupcakes and a plan to check back with her for more work tomorrow.
A few days later, the next time Hannah sees him, he is lying unconscious under a tarp in a vacant storefront two doors down from her bakery.
While recovering in the hospital from malnutrition and an apparent blow to the head, the mystery man settles on the temporary name Joe Smith and, with the help of Hannah and the medical staff, slowly starts to recall things about his past—like his talent for restoring antique furniture. 
Set before Hannah's mother, Delores, and Carrie Rhoads open their antique shop, this installment focuses on Hannah—and the usual main cast of characters—using a limited set of clues to sort out the story behind Joe Smith.
Christmas Cupcake Murder is a missing person mystery verses a murder mystery. This, along with reiterating that this book is a prequel to Chocolate Chip Cookie Murder, is important to emphasize for devoted readers of the series.
As usual, the book is focused on Hannah's daily life. But it sets a slightly new foundation for her relationships with her mother, sisters, Norman and Mike. Hannah's mother appears to be more overbearing in this book than in the main series and the up and down storyline of the love triangle between Hannah, Norman and Mike does not exist yet.
 The uncomplicated, yet powerful, feel-good storyline is easy for readers to follow and, while there are no dead bodies in the book, the departure from Hannah investigating an actual murder is a bit refreshing. The story is full of joy and at the end of each chapter, readers will find a handful of detailed recipes for delicious semi-homemade treats, right in time for the upcoming holiday season. 
 When the clues begin to come together to reveal the true identity and life of Joe Smith, readers will deeply feel the thoughtful family twist that makes this book a very touching, meaningful part of the overall Hannah Swensen series. 
 Joanne Fluke is incredibly skilled at crafting the perfect cozy mystery, especially ones with a holiday theme. Christmas Cupcake Murder may be a little different than the books in the main series, but it is a wonderful read. If you love Hannah and the quirky residents and visitors of Lake Eden, you will appreciate this book. It is my opinion that Fluke created this story in the spirit of what is to come with these characters. That said, some of the elements may not be fully actualized yet in the main series.
Despite a prolonged resolution, a great deal of repetitive conversation over the known facts about Joe Smith between characters and a large amount of detail surrounding things nonessential to the story, the plot remains heart-warming, light, and quite interesting. Christmas Cupcake Murder is a delightful, uplifting, quick read to hold devotees over until the next installment in the main series is published in the coming months.