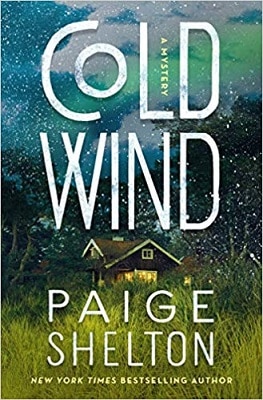 Cold Wind by Paige Shelton is a well-written mystery novel that combines traditional police detective work and amateur sleuthing. It is the second book in the Alaska Wild series.
The story is set in Benedict, Alaska and centers around Beth Rivers, a successful thriller writer known as Elizabeth Fairchild. Beth is still hiding and recovering in Alaska while the Missouri police look for her stalker turned kidnapper. When two muddy eight- or nine- year-old girls show up at her office and then a body is found, it is only the beginning of the mysteries that unfold. Why are the girls by themselves? Who are their parents? Who is the dead person? Will Beth's kidnapper finally be arrested? Will she stay in Alaska? Will Beth learn to fully trust more people in the Benedict community? These are only a few of the questions that must be answered.
Beth's character was well-developed. She continues to be a flawed protagonist that also has shown some growth through making friends and learning to deal with her post traumatic stress disorder, but she still keeps secrets and finds it hard to trust people. Several of the secondary characters gained depth in book two of this series as some secrets are revealed while others continue to add to the enjoyment of the book. There are a large number of characters in this story, but several of them were introduced in book one so it felt like I was catching up with old friends.
The author does a great job of portraying the hardships and lack of amenities as well as the friendships, pace of life, the wonders, and the dangers of living in and around small town Alaska. I could easily visualize the town, the people, the road conditions, the cold, the isolation and much more.
This is a riveting story that hooked me with the first chapter and kept me interested throughout. It's suspenseful and there are twists and turns and surprises along the way in an intricate plot that kept me guessing. From the small town residents to the descriptions of Alaska to the various mysteries, I thoroughly enjoyed the story. Several themes run through the tale including murder, drug addiction, disappearances, PTSD and much more.
Overall, it was a solid mystery that was engaging, suspenseful, fast-paced and compulsively readable. While it does leave one major plot point unresolved, all others were resolved. If you enjoy well-written mysteries, then I recommend you check out this series. The books are best read in order, but there is enough background that Cold Wind could be read as a standalone. I'm looking forward to book three.
St. Martin's Press – Minotaur Books and Paige Shelton provided a complimentary digital ARC of this novel via Net Galley in exchange for an honest review. Opinions are mine alone and are not biased in any way. Publication date is set for December 1, 2020.
Other Detective Mystery Reviews
As sides are declared, a madness takes hold
read more